Today I went to the new yarn shop (less than 1 mile away). Wow, has it changed since they got settled in! I've already made some choices of yarn to buy when I get the next income check! In the meantime, she gave me some tips on working with nubbly yarn (I have Bernat Boucle), that might make things easier. I had to go down to a size 8 circular needle to match the gauge in the Banff sweater. I also bought some wool roving for the sheep slippers (Fiber Trends Pattern) that I would like to start soon. I'll still need a felting needle, but they were not currently in stock. Most of the roving I see for sale are very large quantities. I don't need much!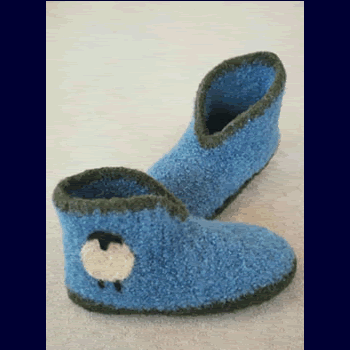 Fiber Trends Pattern: felted slippers

Here's a recipe that my neighbor gave me nearly 30 years ago. It's a widely used recipe and makes delicious fudge. Easy, easy, easy, even my brother, the non-cook can make this! And it is fast and not affected by rainy days (as is the case for a lot of fudge recipes). Please note: I copied and pasted this from the Southern Cooking section of about.com, but it is exactly the same recipe I've been using all these years when I need EASY and Fast fudge.
Quick Chocolate Fudge
3/4 cup evaporated milk, undiluted
1 3/4 cups sugar
2 teaspoons salt
2/3 cup chopped walnuts or pecans
1 1/2 cups miniature marshmallows
1 1/2 cups semisweet chocolate chips
1 teaspoon vanilla
Combine evaporated milk with sugar and salt. Bring to a boil; simmer for 5 minutes. Remove from heat, stir in nuts, marshmallows, chocolate chips and vanilla. Stir until marshmallows have melted. Pour mixture into a buttered 9-inch square pan. Cut when cooled. Store between layers of waxed paper.