All this month, I've been working on needlecrafts and I finally have a finished product to show you! I finished the
Maple Leaf Quilt
yesterday. Tying took longer than planned, but it's ready to go on my bed now. This quilt was the result of a swap on QATW. This is also a
stashbuster
quilt. All but the sashing/inner border and the cream background came from stash. This includes the fabric used in my swap blocks!
The final size was 89 x 102 inches and I used
Joann's Soft and Crafty Hi loft batting
to get more of a comforter feel. I used
Cascade 220 yarn
in light cream and mulberry brown to tie the quilt. The backing, also purchased from Joann's, is a prewashed pink paisley flannel fabric. The sashings are 2 inches finished with a 4 inch inner border and 6 inch outer border.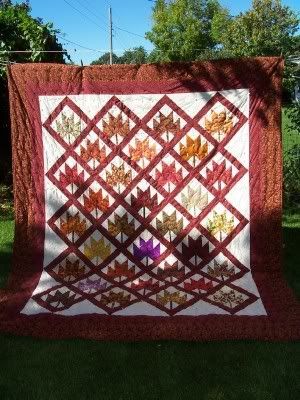 This photo is more of a closeup, but also features the backing.
If you are doing a similar on-point quilt, 3 yards will give you just enough for the sashing/inner border if you cut it all lengthwise. Here's a link to the pattern we swappers used to make our blocks.
http://www.quiltaholics.com/bom/maplf.htm