First, so sorry I haven't posted recently. I hate to put posts without photos and I've had a lot of computer problems since the resent upgrade. Things aren't quite right yet, but at least internet access seems to be stable.
First, I'll start with the knitting. I'm making
Trilobites
from Wendy Johnson's book,
Socks From the Toe Up
. I can see that participating in a sock contest that only lasts a month just doesn't work for me. I am about 2 inches shy of finishing the FIRST sock, so clearly, once again, I will not be able to enter the contest for prizes on Ravelry. Lovely sock though and I will likely make this again in future. Nice and stretchy and the yarn works absolutely perfectly with the pattern. I'm using Knit Picks superwash in Tuscany and size 0 needles (Knitpicks nickle circs). I've concluded that the only contest I will likely be able to actually FINISH a pair is the one in November or December that uses just the basic pattern in stockinette. Anyway, I will continue to work on these and the other unfinished ones. I need some done socks before it gets too cold!
On to crochet! No photos right now, but did want to say that I've finished about 80% of the
Ladybug Crocheted afghan
. I discovered I have 2 squares left to do, but have already started the flowers. I get to sit at a long medical appointment next week, so really need to make up ONE ladybug before the staff threatens my coffee supply. They watch this thing getting worked on, square by square, every time I am there. I had expected to actually be completed in June, but what with fewer appointments, that hasn't been happening. It's really hard though. I want to get it done, but it is my take-a-long project and I have nothing else exactly lined up once I start putting the blocks together, so I'll just keep plugging along.
Next, on to quilting. The
train quilt
is rapidly reaching completion. Here it was late last week on my 'tying' table. I misplaced my little Fiskars, so had to use my dressmaking shears, but otherwise, it went well. Took just shy of 15 hours to tie and make the binding. I know this because I was listening to the audio version of
The Hunt for Red October
, which is 15 hours long. Great story! I saw the movie and that was fabulous,but I completely understand why this story catapulted Tom Clancy's writing career.
Here is my helper, Polly, who absolutely adores helping tying quilts. If she isn't napping where I'm working, she is running off with yarn balls. Here's the kitty, tired out from chasing yarn balls. As you more experienced quilters can see, I really should have trimmed these blocks so that the corners met, but I decided to just leave them. Next time, I will REMEMBER to trim them because the quilter in me knows it really does look better with matched corners.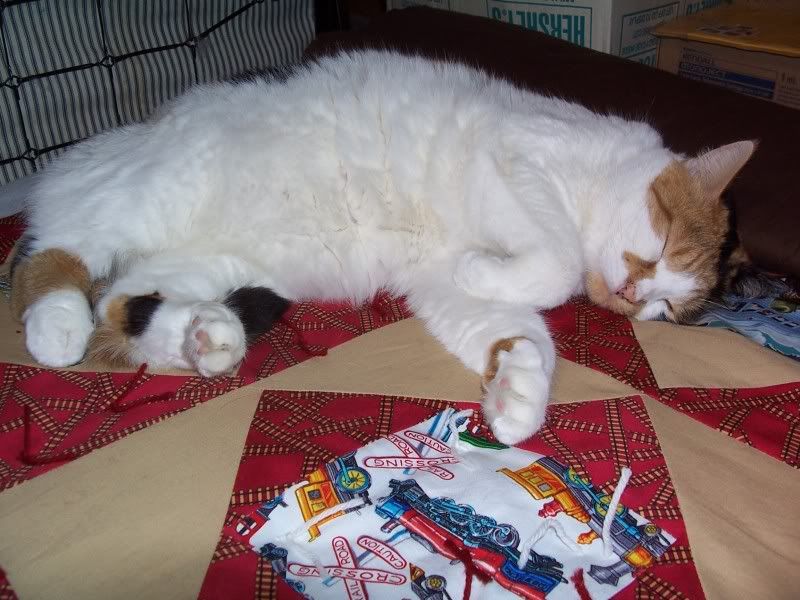 QuiltingAroundTheWorld.com
has a new quilt-a-long. Pick a quilt swap that you participated in on that board and finish the quilt in a month. So, for October, I'm picking
Winter Fun
. This swap was done last winter. This is about 52 inches square and I plan to hang this vs. using it as a lap quilt. Bought some cute snowman fabric for the back today and plan to pin tomorrow (have to find my box of pins!). This will have different types of quilting depending on the block. What did I make for this swap? The windmills (top row, 2nd block) and the rail fence (bottom row, 2nd block).
I'll try to be better about updates. As we approach Winter and the end of the allergy season, I hope that I will be able to get more accomplished!