It is so nice and cool outside (70 something) and breezy. A huge difference from yesterday.
Yes folks, it is no longer a rumor. The digital camera and the computer are buddies once again. Of course, we had a beautiful morning and the MOMENT I go outside to take photos, it becomes totally overcast (and is darkening even more as I type). Anyway, I did take some photos of projects. The first is my
Christmas Snowball
quilt That was one of my UFO projects. The center snowball blocks have a Christmas scenery fabric. Really a great way to feature a fabric! I quilted poinsetta leaves and berries in the center of the snoballs and meandered the rest. The pattern was called
Monet's Garden
and it was from
Quiltmaker
(republished last year in one of those 'favorites' issues). I started the quilt in 1994, I think and finished earlier this year.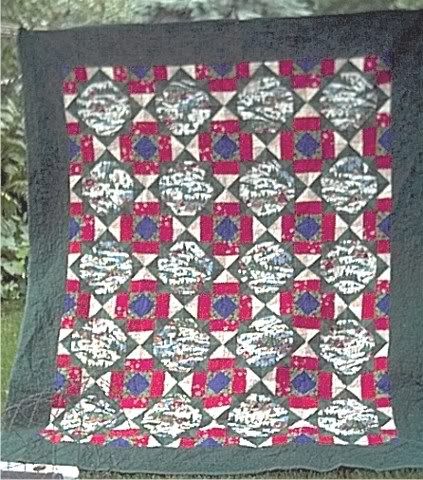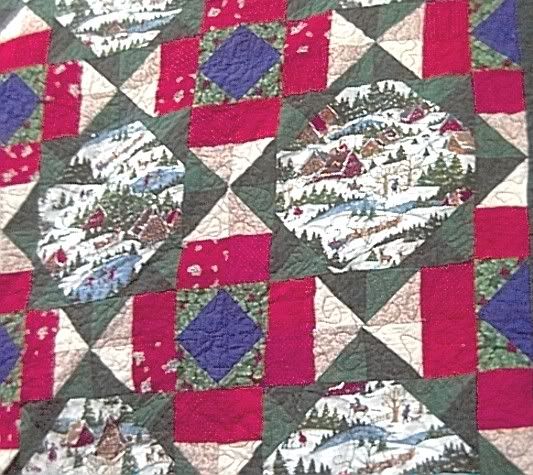 The second photo is of the nearly completed
One-Line Afghan
. As mentioned before, this afghan is entirely made up of yarn purchased at garage sales. Takes a long time and uses a lot of yarn, but it sure feels nice. Most of the yarn is worsted (a lot of it Red Heart before and after the turn to no-dye-lot), but I also used some sport yarn by doubling it up. I have one of those yarn winders which makes it really easy to use both ends of the yarn without tangling. This is also an afghan where making a swatch to get gauge is really important. This puppy ended up considerably longer than I had planned-not that my cousin's SO will object (he's pretty tall).