I have finally finished the
One Line Afghan
! This is a present for my cousin and her SO. She was the only female relative I hadn't made an afghan for yet. The finished afghan is 60 x 95 inches. Yes, this is an example of why you should check gauge. It is 20 inches longer than I had planned!
This is not my original pattern, but a combination of a couple that were previously published decades ago. A pattern called
Ole Scrap
by Lou Ann Millsaps (1995-Needlecraft shop: Afghan collectors series) is very similar and likely based on those older ones. I kept alternating between an I and J (whichever was handy) with a resulting gauge of 10 stitches for 4 inches. I would recommend making a 10 inch swatch (with just a 2 inch tail) to find out how many to cast on for your length. After a while, I started to do colorways from light to dark throughout (adding yellow here and there to add some brightness to the afghan) as it had much better color than just light color followed by dark color. This project was started in early 2004. My digital photo just doesn't show the wonderful color of this afghan!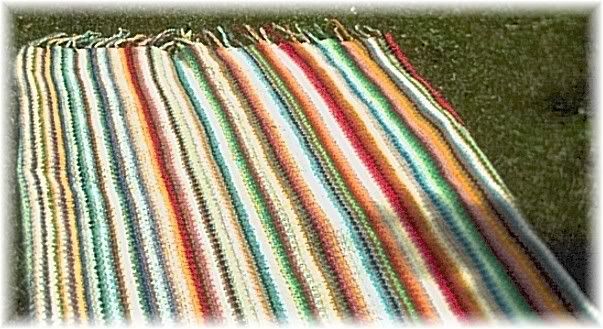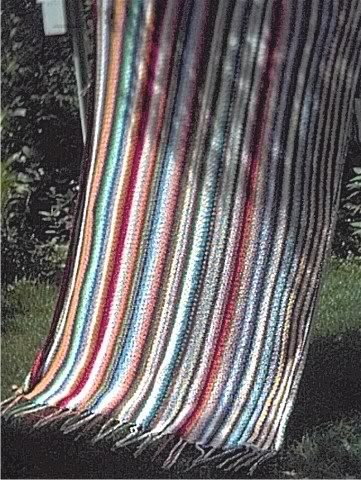 One Line Afghan
(60 x 75 inches)
Gauge: 10 stitches over 4 inches
Need: I hook and lots of scraps (I used a beer box full of yarns). Use worsted weight yarn. You can use the occasional sport weight yarn, but use 2 strands when crocheting. For some yarns, you may have to switch to a J hook for that row. I did not like the result using specialty yarns. Homespun or Boucle also looked weird (unless you have enough to use throughout the afghan).
Directions: Do not turn your work throughout. Always leave a 10 inch tail on both sides. Leaving a tail of about 10 inches, make 185 chains (this is your length). Finish off, leaving a 10 inch tail. Returning to first chain, sc in first stitch. Then alternate dc and sc to end. Finish off. Always starting at the same end, alternate starting with sc and dc for remaining rows. Stop when 60 inches wide.
Color: to get the nicest effect, work with colorways going from very light to very dark. I found working 6 colors in this worked much better than 2 or 3. A colorway would be like a group of blues or a group of greens. Work a yellow, gold or orange in occasionally to really brighten it up.
Fringe: Gently pull together 4 ends and tie close to afghan. Do not let them pucker. After all ends are tied, use a ruler and cut each section even to 7 inches from the knot (don't try to do a bunch at once--just doesn't work well).
Note: This is an oversized afghan as my family members tend to be either very tall or fluffy. Adjust size as needed. If your gauge doesn't match, just figure out your stitches per inch from your swatch and divide into 75. Makes a very nice pet mat - just make it smaller.
[edited to add]. Why 10 inches on ends? It allows enough length to do several decorative options for fringe as well as allowing for an uneven edge. I just used one knot at the edge of the afghan, but you could also do a double knot, braid, or just finish the edge in multicolor yarns. If you then finish off the edge, you can put in fringe that is more substantial.