I am such a complete wimp when it comes to heat. Right now it's 89.6 and 40% humidity and I was just about dying while out doing garage sales. I was never too keen on heat, even in my youth. I am ever so thankful for the invention of the air conditioner.
My One Line Afghan has 15 more rows to go. Nearly done. Then I have to do the side edges and the fringe. I would say this is a guarantee finish for July! In addition, I wanted to use my new Soft Touch crochet hook a little, so started a Tissue Box cover using Red Heart in "Jump" which is a variagated crayon color. Finished the top while watching "
Dawn of the Dead
." This wasn't a bad horror movie although it was more an action/adventure movie with zombies. Anyway, I had bought a matching purple for the trim, but I'm thinking that the yellowy/gold would make a better trim.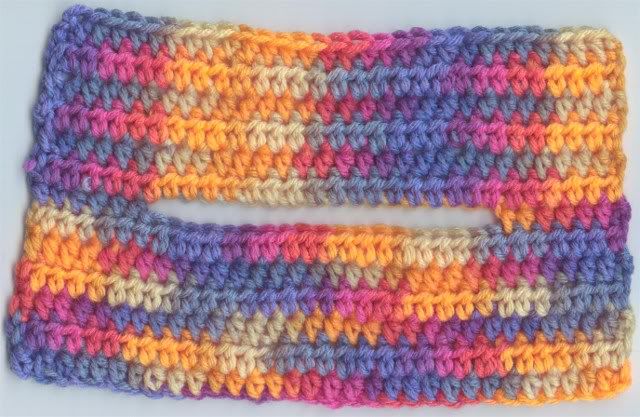 I came across this pattern booklet, which I already own called
Learn To Crochet The Mile-A-Minute Annie Way
. If you've never made a
Mile a Minute
afghan, this was a great book to learn from. I've made 3 of these - one was blue/light blue (for Mom). The next was jewel colors/black (for my Aunt Vilma) and the last was using Christmas yarn. They were fast but a tad hard to figure out how to enlarge in length. I always need them longer and wider due to very tall and fluffy family members. I did all three afghans during lunch hours in the early 90s. It's a fairly good take-a-long project once you've made the first one. I do not recommend using a no-dye-lot yarn for this one. No-dye-lot yarn isn't as soft and cozy as the regular yarn and this design (
Mile a Minute
) doesn't result in a soft weave that makes up for it. I thought Sayelle worked very well (well, really, almost anything in the Caron line did). This is not to say you can't use Red Heart. It just won't be quite as soft.