While still listening to the latest Harry Potter audio book, I managed to finish yet another project; this time a knitted one. I finished the knitting and felting on this knitting bag last year and just needed to attach the pockets and handles. I'm not really satisfied with how I did the handles, so plan to pull them out and rethread again. The pattern is
My Constant Companion
and is a knitting bag featured in the book,
Knitters Stash,
which contains knitting patterns from shops all over the US. You can also buy the pattern individually from the designer (
http://www.knitkit.com/
). I have and plan to try out a couple of her other bag patterns include
Mezza luna
(a crescent shaped bag) and the
Oregon Tote
(smaller and squarish). Both are felted.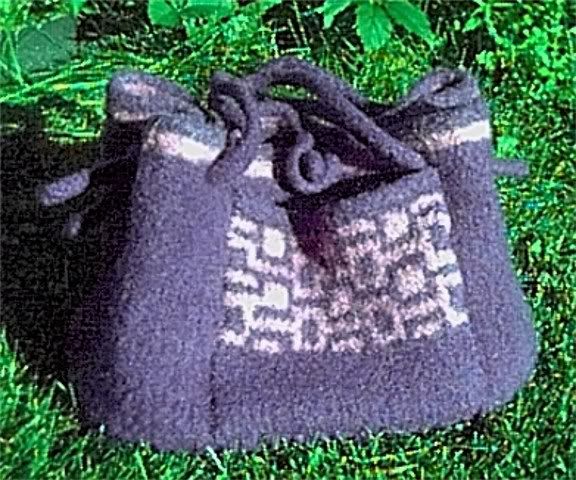 See how the handles tangle funny? I think it's my threading that is doing it, but I needed to post a photo!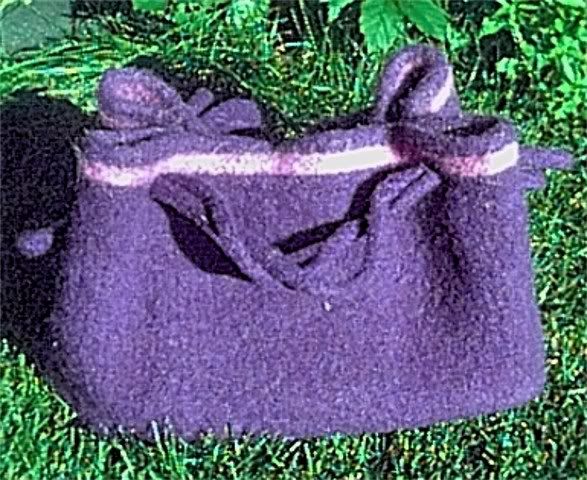 My particular bag is made from Cascade 220 (purple) and Lamb's Pride Bulky (pink - adds a fuzzy texture for interest). I did have to trim my pockets as they just wouldn't square up after felting. I used regular
Coats and Clark
thread to attach the front pocket and the inner pocket. Next time, I will use a more substantial needle as mine bent. I am missing one pocket (a long one intended to hold double pointed needles), so when I find that, I will add it to the inside.
Since I rarely buy knitting books, I thought I would review this a bit. Mine is the original hardcover version. Contains a variety of patterns from shops all over US-adult sweaters, both long and sleeveless, a couple of children's items, a very interesting tea cozy, a rug, felted fish and a pillow among them. These are often the most popular selling pattern at the specific shop. Now, the knitting bag is what got me to buy the book, but the sweaters are also an attraction. They tend to be more sophisticated without being too trendy. Many of the featured items use more expensive yarns, however, you can substitute. This book assumes that you are an experienced knitter, so I don't recommend it for beginners.
The paperback version is available at Amazon.com along with more reviews. One reviewer mentioned that there was a substantial listing of errata for this book. I checked, and yes, it looks that way, but the majority of the errors are minor. Here's a link to those changes:
http://www.interweave.com/knit/books/be_knitters_stash.asp
I should comment about the reviewers at Amazon who reviewed this book. The majority who did not like the book were either beginning knitters or prefer a style or project not represented in this book. To complain that the name of the book indicates that the book features scrap patterns is your first clue. One legitimate complaint is that there wasn't more information on the specific yarns so that substitutions can be made 10 years from now. However, that complaint is minor because gauge is included in every pattern.