Lots of crocheting on the One Line last night. That's about all I'm working on at the moment so that I can get it done. Yes, it appears that I am on a crocheting pattern spree just now. Received my order from Herrschners. Yeppers, more afghan patterns as well. I truly am an addict.
The first one has some fabulous afghans. Although they are listed under 'juvenile', any adult who loves the genre will love these afghans. I particularly like the cover aquarium one (I kept aquarium fish for 25+ years). There is also a heraldic dragon shield that is great also. Second one has all motif afghans--need those for take-a-long projects.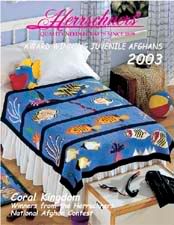 I saw the sheepie made up as a gift for someone who visits my blogs (she knows who she is). I saw the pattern and it was MINE! My Mom needs a couple of these.
A number of gals have mentioned these cushioned crochet hooks. I bought a 'G' so that I could try it. I don't usually have trouble with my hands unless I'm doing a bunch of sustained crocheting (like during a movie-a-thon). This is a Clover Soft Touch crochet hook. Looks interesting. We'll see how it works!