I can't help it. I am just a book addict. I can only blame my eyesight since I can't read paperbacks anymore, I buy quilt books. Here are my latest two purchased from Amazon.com. The first is a book on scrap quilts entiteld
Weekend Scrap Quilting
by Jeanne Stauffer and Sandra L. Hatch. Every author approaches scrap quilts in a different way. This one is perhaps more useful to me than others because she assumes that you have varying amounts of different fabrics. If you run out of a fabric, doesn't matter. Search your stash for something similar. There are several quilts that apply well to large patterned novelty fabrics as well. Can hardly wait to start one!
This next book is for anybody who quilts using their home machine. It features a variety of ways to put your quilt together without having to deal with all that batting. A plus for large full sized on up to king sized quilts! If you can't afford to pay someone with a longarm machine, this is the one to get. Included are about a dozen patterns, which are very helpful to determine which ways to incorporate your own patterns. They are cool patterns anyway, especially that cover one! This book is
Divide and Conquer
by Nancy Smith & Lynda Mulligan. Amazon is nearly sold out of this book, so if it interests you, don't wait to order!
My
Maple Leaf
quilt is wonderful. So far, I absolutely LOVE LOVE LOVE this new batting (
Joann's Soft'nCrafty HiLoft
). I'm currently working on putting the
Paddlewheel
quilt
together. I've finished the blocks and am preparing sections for pinbasting. As mentioned before, this quilt will be quilted section by section and then assembled. My Mom & Dad's quilt is just about killing me with the weight (large queen size) and I don't want to further torment myself. My goal is to get all the remaining pin-basted quilts finished yet this year (5, I think) and to do that, I have got to stop starting new quilts!!
On the crocheting side, my Mom's rose afghan is about half done now. I had lots of appointments last week and actually need to get more yarn. In between all of this, I'm trying to make room in my closet for kittens. I was outvoted and the stray that turned out to be pregnant is staying. (grumble, grumble) I knew as soon as they gave her a name, they would keep her. Cleo-Claudine wants my closet. She's about a year-old, small, calico kitty, who doesn't exactly like me (she growls, but doesn't claw or bite). We expect the kittens within a couple of weeks. She's pretty fat now, so I expect any day soon.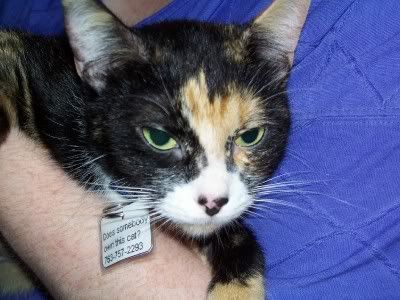 Cleo-Claudine in early September