I finished my
first pair of socks
and have the photo to prove it! They are made from Cascade 220 wool yarn using the pattern from
Knit Socks
by Betsy McCarthy. Overall, I am happy with my first pair of socks even though they aren't perfect. The heel is though and that is most important to me. The foot area is a little roomy and I prefer a more rounded toe. That extra fabric on the one toe goes away after I walk around a few steps with my sock (it was the first time I put it on).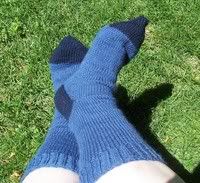 Today I'm trying to finish the backing for the
Diamond Waterfall
quilt so that I can pin it this week before the shop closes. I'm also getting my swap blocks done. I bought a lot of fancy thread at 60% off as well as plenty of brights to make a couple of projects that needed brights or jewel tones.