I'm sad to report that we lost Fiona yesterday. She was suffering from complications of Chronic Renal Failure, which she has had for a couple of years. She was my sister's cat, rescued as an adult from the alleyways of Los Angeles. My sister gave her to us in desperation a few years ago because Fiona needed to be an only cat and just couldn't cope with my sister's other cats. Her age is only approximate, but she was about 17. Fiona was very much a quilt cat. She wasn't very fond of afghans, and really hated the wool cat bed that I made (my sister's other cats adore it). However, she loved, loved, loved to crawl under my flannel quilt. She loved any of the quilts, but the flannel was her favorite.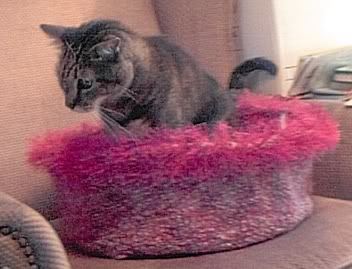 Fiona, last year in lioness pose. Fiona in September 2006 modeling my cat bed.
I don't have any photos of Fiona under the quilts. She was just a lump. But she spent most of her sleeping time under the several that I would put into a pile on the bed.