I've been working on swap stuff and a new technique in quilting!
First, I finished my
30s repro Churn Dash swap
. I really like this block. It's easy and a really good choice to practice getting points right without too much frustration. Here are the 4 colors I sent in for the swap.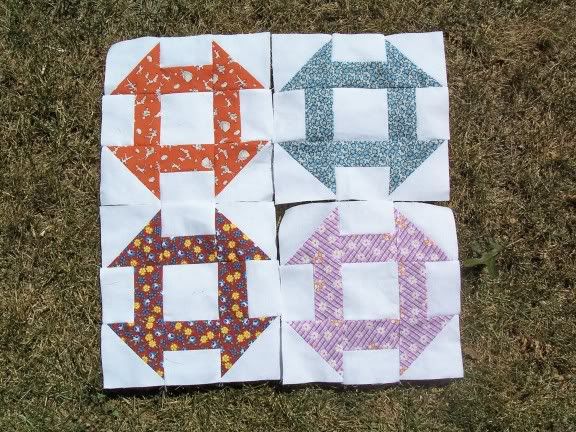 I put together sashing for 2 of the blocks. I had toyed with the idea of using only a light and a dark and alternating them in the quilt. In the sunlight, it becomes obvious that the red in the pink fabric doesn't match the lipstick red of the polkadot. This wasn't obvious at the quilt store. So, just using 2 fabrics isn't going to work for this as I'd hoped since my selection locally is pretty restricted. A popular technique in swaps that is a pet peeve of mine is squaring up blocks. It is SO MUCH easier to keep the points if blocks have not been squared up. Typically, what happens is that one side ends up with not enough fabric to fix and the points get cut off when sewn to sashing or other blocks. Easier is to just leave the squares as is and let the recipient either fix it by resewing or by careful manipulation with the sashing. Way easier for me to square up sashing! I'll take swap blocks as they come. In all the years I've participated in block swaps, there have only been 2 blocks I couldn't use due to sizing problems. I plan to incorporate them into an orphan block quilt.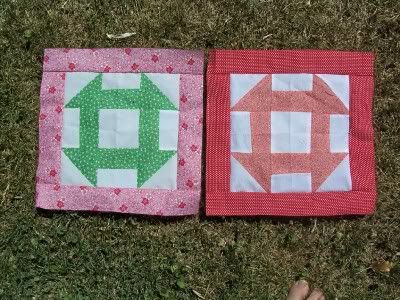 Here is a scan of the sashing color idea I'm trying to duplicate (from Scrap Quilts by Leisure Arts). The block is different, but I was hoping for a more girlie girl feel to this quilt by using just red with a pink with red highlights. Guess I'll go with the multicolor look instead.
I finally managed to get to trying out the
Reversible technique
in
Reversible Quilts
using some inexpensive fabric from
Joanns
. It's always easier to make a child quilt with a new technique. It gives you enough practice to really do it right on a larger quilt. I already learned why directional fabrics for the back are a tad difficult to use. It's harder to keep everything straight until the basic technique is down. Good to find that out now. The back is composed of squares that I received from an
Eye Spy
swap a couple of years ago that I didn't use in my other quilt. The front is Mickey Mouse fabric with fabric to match the colors in Mickey. My batting squares and front are 7 inches. Once I've sewn the strips (which quilts both sides), I trim down to the size of the swap squares which is 6 inches. Afterwards, I will add a narrow sashing to attach all the blocks together. Since I have a lot of red thread, that is what I'm using in the top and bottom and it looks good! I have to say, it's way easier to quilt this way instead of pushing around a large pinned quilt.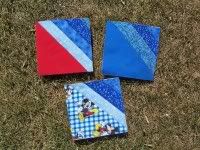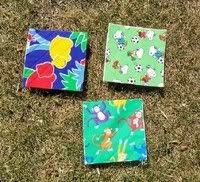 Front and back of finished squares.