Finished the crocheting on the
One Line Afghan
today! Finally! Tomorrow, I'll do the ends and the fringe. Maybe by the end of the week it will be a done deal!
The audio version of the latest
Harry Potter
came in at the library. My sister is listening to it now and then I will take over. Since we only have 10 days, I probably won't be posting until after I've listened to it, which will take 2-3 days, I'm sure. If you get a chance at all, listen to the audio versions of this book. Jim Dale came out of retirement to be the 'voice' of this series and it is wonderful to listen to his telling of it (and his many voices).
Listening to Harry Potter audios is when I work on cutting out my charms for my
1000 pyramids
charm quilt. I have over 600 cut out now. A
charm quilt
is one where you use one pattern piece and every piece is a different fabric. I just picked a triangle for mine, but many use squares or other shapes. Takes real effort to accumulate a lot of charms. Cutting them out is also a time consuming process. My charms vary in size from just over 4 inches to 8 inches, depending on where I got the charms. Well, yes, and in addition to any fabrics that I bought for other projects. I use rotary templates and a 28 mm Olfa cutter. I first cut out a pyramid, then a Drunkard's Path piece (if there is room) and then squares or 1.5x4 rectangles. Many of the fabrics are top quality, so I really don't want to waste any of it. I can also enjoy it in more than one quilt!
Here's one triangle of my 1000 pyramids. When put together this way, instead of row by row, you can create disappearing mountains. This was the feature I most loved about this pattern! Also, a link to the template set that I use:
http://www.ezquilt.com/products/acrylictools/classic.htm
. This set has the advantage of showing the sewing lines so that you can view exactly what is going to show up and center flowers or butterflies or some other feature.
This is the Drunkard's Path quilt that I've been making from the leftovers from charms. It's a 3 inch Drunkard's Path (also a set from Pepper Cory/EZ Quilting - got mine at Michaels). I have enough of these now to finish my queen sized quilt, but I can't help it. It's my very favorite pattern, so I'll just keep cutting more.
Bright fabrics don't often work with all the other fabrics in my charm quilt, so I have been making a tumbler semi-charm quilt with those fabrics (as well as leftovers from my fish and bug projects). Yes, I know, this probably has a lot to do with why I have problems finishing! I have too many things going. This will probably end up a modified eye spy quilt for a kid. If you look carefully, every tumbler has a corner clipped out of it. This is part of the template that makes matching very easy when sewing. You get the actual sewing done more quickly and accurately.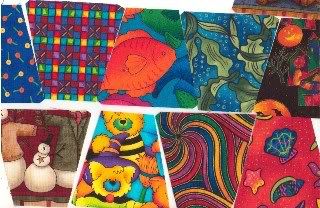 The 1.5x4 inch pieces are being saved so that I can do this
Flip and Sew
Mystery quilt. It's just a technique I wanted to try and since I have a ton of this 3 inch cash register tape. I was unable to participate in the mystery at the time, but still want to make a quilt from it. Here's a link.
http://members.aol.com/qltblockcenter/04benfranklin/index.htm
. Now, I don't specifically measure these to be 4 inches, just that they are at least 4 inches. The ends will all get cut off anyway. Yes, folks, there are faster ways to accumulate these, but I'll do that AFTER all the charms are done!