Today, I finished, ironed, packed up and shipped my blocks for the Barbie Block exchange. I also signed up for Barbie, part 2. My plan for Barbie 2 is to do a block featuring geese units. I'd like to do this one, but it has to be 12 inches finished, so I'll have to draft my own version.
http://www.quilterscache.com/D_F/FoxandGeeseBlock.html
I really like Quilterscache, but have only been able to use one block from her website. It's either the wrong size, or paper pieced. I took a class on paperpiecing only because I have 2 patterns and a book that turned out to be paper piecing. I hate paper piecing. However, I promised myself that I would do these patterns starting by September (one is for Christmas Santas) just to get them over and done with.
Flying Geese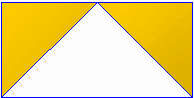 My very favorite method of doing geese units is using Eleanor Burns templates. The limitation is that you can only make 4 sizes. However, those 4 are PERFECT. They are made slightly larger and then cut to size. Perfect and quick geese with little waste. If you are making a border or entire quilt with geese, this is the way to go! This link shows several ways of making flying geese units without a special ruler. Allows you to do any size and use scraps.
http://www.quilterscache.com/G_I/Howtomakegeese.html
This link also doesn't use a special ruler, but shows you how to make any size goose.
http://www.patchpieces.com/Flyinggeese.html
Another method uses a ruler and makes 4 geese at a time. No math at all. Here's a link so that you can see it (scroll down a little). I have this ruler, but have yet to use it. Guess what? Gonna use it!
http://www.lazygirldesigns.com/books.php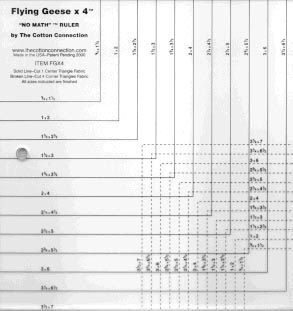 Still working on One-Line Afghan. There is hope that I may finish the crocheting this month!