Sorry about not posting recently. I was determined to do it from the Netbook, and then couldn't get the photos on or PixResizer to make them a more maneageable size. All fixed now.
Spent a long weekend working on sewing projects at my sister's while she helped me figure out my new-to-me serger. I made 2 pillowcovers, a pillow case, pajama bottoms and a pj top (another pair).
The first project was 2 pillowcovers. I bought one for my king sized feather/down pillows a while back and all they sold was this satiny thing for $9. It feels really nice, but the pillowcase was forever coming off. I had some plain Christmas fabric with some mistletoe that I've been using for backings and they made perfect pillow covers. This gave me zipper practice as well.
Next is Dad's Train Pillowcase. He is a train fan, so needed this. Didn't have to adjust anything. The trains go the right way for the easy-make pillow case. I used the basic pattern from
1 million pillowcases
. I'll be making a couple more to donate to the cause since I used their pattern. I have it laying across my king sized pillow to show you that you do not need to adjust this pattern. Very generous length!
Here's a closeup. I added some stitching on the top. Looks very professional and I did it!
On the quilting front, as always, I have too many projects going. I am doing a quilt-along project with my group at
QATW
(www.quiltingaroundtheworld.com/) using the book
Hop To It
by Edyta Sitar. It is an applique project. Originally, I was going to follow her instructions using invisible thread, but after endless adjustments on my tension, I just can't get it right with the nylon and will instead just match thread with the pieces and satin stitch. This photo shows the design for
Block 1
fused down. I am using
Kona
solid in
bone
for my background. The red flowers with yellow centers is actually a brick color with dark zig zags, not a solid. I dithered as to whether to use something brighter, but kept returning to this. As a stand alone block, I'm not thrilled with my leaf fabric choices. My Mom likes it. I'm thinking of doing a second one with alternate color choices and will then go with whichever one I like best for the rest of the quilt.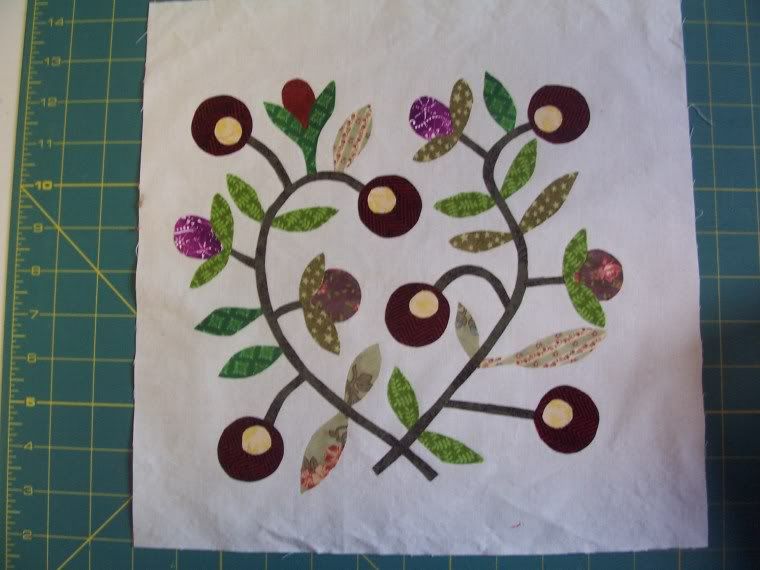 As always, what's a blog without including pets? Here's Polly in her box on the cutting table. My sewing machine is there too because the serger is where my sewing machine usually is. Gotta find a new setup that will work with the serger. My biggest challenge right now is finding a food that is lower calorie that makes all of the cats happy. We thought we had one, but it appears to cause Bart to have a skin problem (He licks all the fur off his legs). Cleo-Claudine and Polly are both overweight, Bart and Alice are at the top of the weight chart for their size. Sylvester is the only one who is at a perfect weight. Go figure.