Most blogs I visit include their pet pictures. I don't actually have a pet since my nearly 19 year old cat died several years ago. I am, however, keeper of the EO (Evil One), otherwise known as
Fiona
. Fiona is my sister's tabby cat, but for several reasons including wanting to be an only cat and illness, she lives here. She is going on 16 years old now and weighs in at 5 lbs. 14 oz. So, she is a small, skinny cat. Her normal daily routine is sleep. Occasionally, she will awaken for food, water and attention, but she prefers to burrow under a quilt or afghan and sleep all day. At night, she rests from her daytime activities and sucks heat from me. Here is her lioness pose when I brought her out in the sunshine today.
This was supposed to be the 'official' portrait for the Kitty Bed Gallery for the
Felted
Kitty Bed Knit-a-Long
. As you can see, the kitty barely cooperated and the color is terrible. I will try to fix that tonight. I used Landscape yarn in variagated pinks. This is a yarn from Joann's that is half 100% wool and half poly. It results in a felted item with nubs. It looks really nice, but unfortunately, it lacks stability. The kitty bed sides insist on flopping over. This would be great for a purse, but not a kitty bed. The upper edge is finished with a couple rows of eyelash yarn (also from Joann's). It really looks nice after coming out of the wash. I'm giving Fiona two months to sleep in it--if that doesn't work, I have two other households to test the bed in.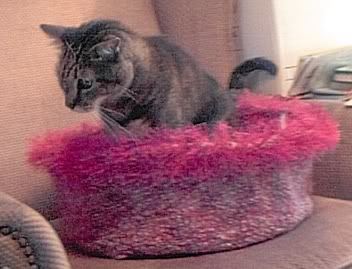 This soulful look is from my other sister's dog. She is a large sheltie named
Brandy
. She is laying her head on my very first quilt, the Teepee quilt. Brandy is very gentle with stuff, so I don't worry at all about her using quilts. She's not a digger. Even when playing through blankets, she is incredibly delicate. The thing about Brandy is that she is always cute. This dog does not have an off or ugly day. In fact, the only reason her ears aren't upright in typical sheltie fashion is because my sister was taking the photo (and she's the alpha dog). Brandy is 7 or 8 years old.
So, there you have it. My pet photos. Before I leave you today, I thought I would share a photo of the sexiest cross-stitch project I have ever seen (being sold on Ebay). Wonder if I'll see anything like that in Fort Worth in October?
http://img.photobucket.com/albums/v311/Tarana/SaveAHorse.jpg