I've been simultaneously working on finishing two sets of swap blocks, selling stuff on Ebay, trying to get my sewing machine problem solved, visiting with unexpected stayover guests and having medical problems. Egads. Things just come in bunches sometimes.
Here's the block that I made for
Barbie Block Swap Two
. I'm not certain what this pattern is actually called (Chasing Geese?), but it's a nice one for featuring a really wonderful fabric. Those geese (little triangles) are 1.5 x 3 inches finished. They come out exactly sized using Eleanor Burn's
Flying Geese ruler
. There are other methods of making flying geese, but when you have this much exactness required, this ruler can't be beat since each goose is made larger and cut back to exact size.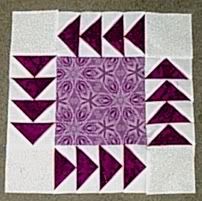 Sorry for the poor color. The geese and the center are different pinks.
Rant Ahead: One of the holdups for finishing the blocks for my block swaps was being unable to get Kona White from my local Hancock Fabrics. They ran out of white more than two months ago. I have requested this several times. Still not in. I don't want to have to switch all my solid fabrics shopping to mail order, but I see I'm losing my choices here. The only quilting store that carried any kind of significant selection of solids closed some years ago. Hancock's carrying Kona helped alleviate that, but I can see lots of orders to
Hancock's of Paducah
in my future.
Also, someone asked about that chevron afghan featured behind the scrap afghan that I am making (see Aug. 18). The chevron one is not a take-a-long project. This is primarily because you only crochet one line and then move on to the next color. So, you need your whole box of scrap yarn to work on it. It actually looks nicer if you use two rows of one color rather than just one.