Today's posting is for the fabric obsessed. If you are not fabric obsessed, you will not see a point here.
There's been discussion on some quilting boards about how to handle your scraps from quilting projects. I used to have several scrap boxes; it would take hours to go through trying to find stuff to make into something. Then I had to iron, sort and cut. I adapted some of the suggestions. These days, I have a small scrap box and regularly go through and cut pieces into usable sizes. I want stuff that works with quick-cut methods as well. That way, when I'm ready to start a project, I can just start. I also can get a really scrappy look as I have such a variety. However, my collection is not huge. My storage space is small (a bookshelf). How do I organize?
My most common square sizes are 2 7/8 inch, 2 1/2 inch, 2 inch and 1 1/2 inch. I have a couple of other sizes for specific projects. The trick to storage is to store in such a way that you don't have to reiron when ready to use. At the same time, you don't want to become too obsessed with perfect organization. My stuff all has to fit on a bookshelf, so it has to be light. I store my 2.5 inch squares in a photobox, purchased from Michaels. Shoe boxes are too flimsy to constantly take on and off a shelf. I can make a large twin sized quilt from the squares that would totally fill this box. I keep my 2 inch squares in an ice cream bucket. Filled, there are enough squares to make half a twin sized quilt.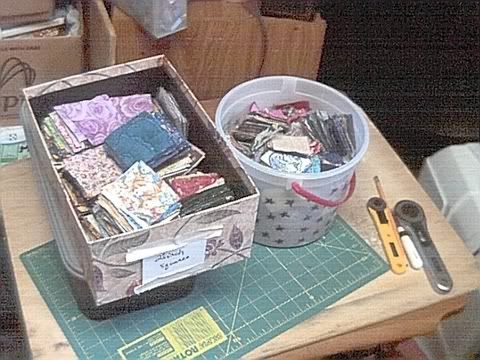 I have 2 collections of 1.5 inch squares. One collection is sorted by rainbow colors for a planned quilt. The other quilt, inspired by Bonnie from Quiltville, uses everything else. It is a log cabin look-a-like. Coffee cans are great for these really small squares with one caveat. If you don't like the odor of coffee, use something else as it takes quite a few washings to completely eliminate coffee odor. Once these two quilts are complete, I will never again save 1.5 inch squares! Ahh...but the challenge. This is a project that I expect to take years, so I don't stress over it.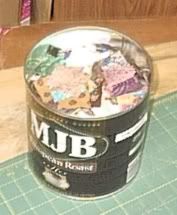 This black Tupperware box, purchased for a buck at a garage sale has worked splendidly for my 2 7/8 inch square and triangle collection. I use the Scrapsaver and surprisingly, have not had any problems with stretching on the bias edge of the triangles. Perhaps I'm more careful than average? In any case, again, I have enough squares to make a twin sized quilt. Next to the box are two fabric collections for specific planned quilts. The 5.5 inch blue squares will become half-square triangles with an appliqued dragon. The 2.5x6.5 beige/tan background rectangles are for a project featured at Quiltville.com called
Scrappy Sister's Choice
. Most of these were long strips leftover from trading 6 inch squares of background fabrics with other quilters through the mail. I always buy some extra in case of shrinkage or cutting errors.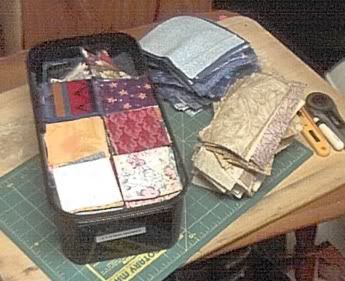 I absolutely love these little plastic shelf boxes. Unfortunately, I don't have the footspace for them. This little bitty one, which fits on my bookshelf, seemed useful for storage, but it quickly fills. Instead, I use it as a staging area. The top 3 shelves I put cut shapes (Drunkard's path, pyramid, tumbler) for charm and charmlike quilts and the bottom two are for storing chain-pieced leaders and enders for the log cabin look-alike. One has lights, the other darks. When those drawers get filled, I spend a couple hours sewing them together into blocks until they are empty again.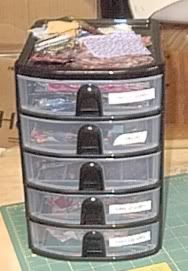 I just loved this little plastic basket that I received when I purchased some charm squares from my LQS. I store 4 x 1.5 inch strips in here. Then, when it gets filled, I sew together a whole bunch of them, trim to 3.5 inches and add them to the utility quilt I am making. It is going together round robin style in order to maintain a complete random look.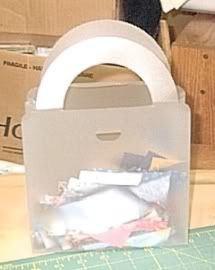 Finally, I keep referring to Bonnie. Bonnie is a professional machine quilter in South Carolina who maintains a great site that she has even improved! A recent feature shows her pieced quilt backs (she uses leftover 10.5 inch pieces to piece her backs rather than use yards and yards of the same fabric).
http://www.quiltville.com/
. OH..oh..ohh...and I bought my plane ticket for Texas yesterday!! I hope a cold front comes through before I get there in mid-October. A heat index of 111 in San Antonio does not sound good!