As I type this, I am surrounded by the sound of chain saws. Last night, while watching TV about the path of Hurricane Rita, and wondering if I'm even going to be able to go on my Texas trip, we got hit by a big storm that caused significant damage. In fact, there was a tornado only a couple of blocks away (F2 about 50 feet wide, meterologists say). We, however, had straight line winds estimated at 80 mph. So, we've lost a couple of trees and had a 'train wreck.' My Dad's scale model Christmas Train broke its bracing and fell sideways. The caboose lost it's roof. The trees we lost were due to be cut down in a couple of years, so it's not too tragic. Some folks lost all the trees in their yards and of course, some folks lost their homes. A large section of the business district in both Blaine and Coon Rapids lost power all day, so I wasn't able to get my bifocals today. Darn it.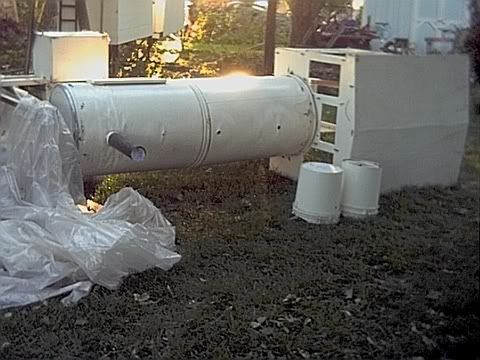 Note the 5 gallon buckets to get an idea of how big this Christmas lawn ornament is.
Every evening, I've been doing about 1/2 an hour of sewing on the Depression quilt. I just make HSTs. It's also one of the few things I can do on any craft stuff without getting these new bifocals as I can't read directions and work on project at the same time! Darn it.