Finished my swap and mailed everything. Here's examples of the two 8 inch squares that I made. The one on the right is slightly curled, but that goes away after a day or so letting the yarn settle down. I used the same flower pattern that I used in Mom's afghan for the second sans the leaves. This was fun. I hope to participate in another!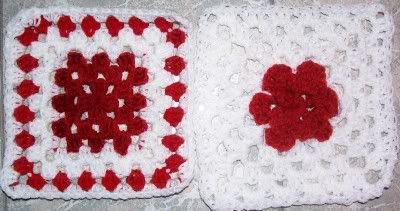 Here's the Potsticker (temporary name). As much as I wanted to call her Mittens, I have now bowed to family pressure to come up with a 'better' name. So, I'm working on it. I'm thinking something Russian or Celtic. She has very thick, but short fur. She loves her pot, but it's clear that she is going to outgrow it in a couple of months.
Now, before you think we have only one cat in a pot, here's Alice in a hanging pot. I thought that she leaped from the computer, but later saw her climb the palm tree and leap from that. Unfortunately, she is likely to be a smaller cat than out Potsticker, so will be able to do this for longer. We are still puzzled as to how she got on top of the Grandfather's clock. The shell hanging is supposed to be in the bathroom, but the kittens were trying to climb it (lower hook) so temporarily relocated in this area.
Finally, Cuddles takes over the top of the computer. Trying to keep her off is really hard although I keep trying. It's warm. It has a preinstalled toy (the leaves of the palm tree).