I'm making some headway on quilting projects in anticipation of packing up everything for the painting in June. I'm just afraid of losing some of these big pieces and I HATE ironing things again. I started this Courthouse Steps quilt at a quilting class last Fall. I'm using some of the 37 yards worth of fat quarters I won at a now closed quiltshop. This is actually a really slick pattern. Easy to do. I particularly like the sashing. Still to go is the pieced border. Now, since I've already decided that I want to quilt this using a walking foot, I'm leaving it as 3 pieces to quilt. Not quite sure how I'm going to attach the pieced border sides. I may just have to hold off on the side borders until the main pieces are connected and then quilt them seperately. If you are interested in this pattern, it was a Moda University pattern originally, but it should be easy enough to find instructions on the Courthouse Steps (Log Cabin variation). The sashing is just strips with 9 patch blocks (note: inner 9 patches have different light/dark layout than sashing 9 patches).
Here's the layout so far.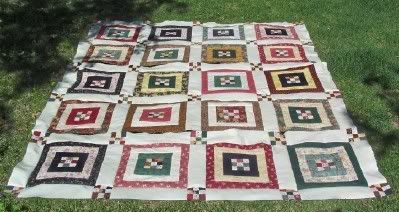 Closeup of layout. My flash really drowned out the pattern of the fabrics. That sashing is NOT a solid, but a very pretty yellow Moda.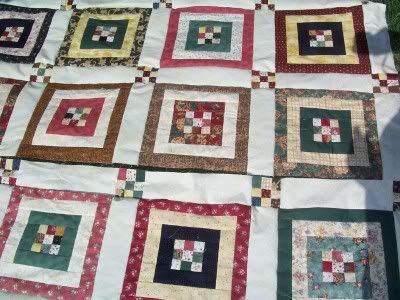 Even though she is not in the pot, she is never far from it. Here's Miss Polly (formerly Potsticker) watching the world go by. Most of the plants will be going outside soon. It will be nice not having to sweep or vaccum dirt all the time.