I've been sick with a miserable cold most of the last week. Pretty much all I've done is work on getting some swaps done and sent out. Finished the
Puss in the Corner
swap
which was pictured in a previous entry. Also did the blades for the
Dresden Plate Swap
.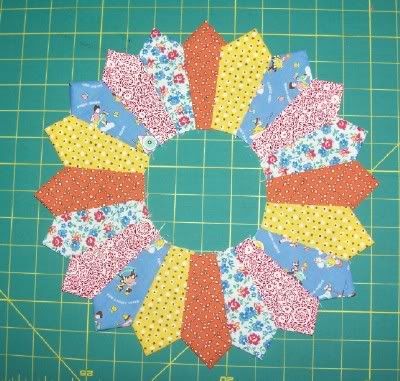 I am also working on a 3 part swap. The first is an appliqued block. The one I chose is an Iris and based on a 1930s pattern. This was my example block. I'm using some darker purples for the final blocks because the light purple doesn't stand out well from the light blue background. I have the greenery done on 2 blocks now and hope to have everything done by early next week. I am a beginner at applique and my points are still not what I would want. Inner points are terrible.
No knitting at all this week although I hope to start on the Rambling Rows afghan to use up Homespun yarn. Crochet has been limited to the
2 color stripe afghan
. I've used up 2 skeins of yarn now and it continues to advance while watching
Desperate Housewives
(season 3 now).
All work has temporarily stopped on the Mystery Quilt. I'll pick it up again on Monday. I need to do a lot of catch up due to being sick AND not running errands because it so darn cold. It was 23 below when I got up this a.m. although it was only 12 below when I ran 3 errands.