Finally finished my first pair of jammies for my Mom. I know she thinks the pattern of the fabric is a tad wild, but she's so desperate for jammies, she doesn't care. The fabric is Moda one that I think was called
Italian Renaissance
. Simple pattern taken from taking apart her old, well loved jammies. I had to follow a shirt pattern instructions to get the top done in the correct order. It's also my first more complicated project using my new-to-me serger. I have to make her 3 more pairs, 2 with full sleeves and then I will make some for myself as well as making flannel bottoms for the top I have already completed.
Shortsleeve jammies with pocket in both pants and shirt.
Knitting, yes KNITTING!! Ok.. well, this is the cat bed now that the knitting is completed. Alice is my model (she is the blanket cat - loves being under blankets and fighting under blankets). This is pictured before the felting. I plan to felt tomorrow and hopefully, it will be all dried by Saturday or Sunday. I've done a little bit of knitting and still having a bit of trouble with the tennis elbow (yes, 10 MONTHS later!), but I'm going to try some sock knitting soon to see how that goes.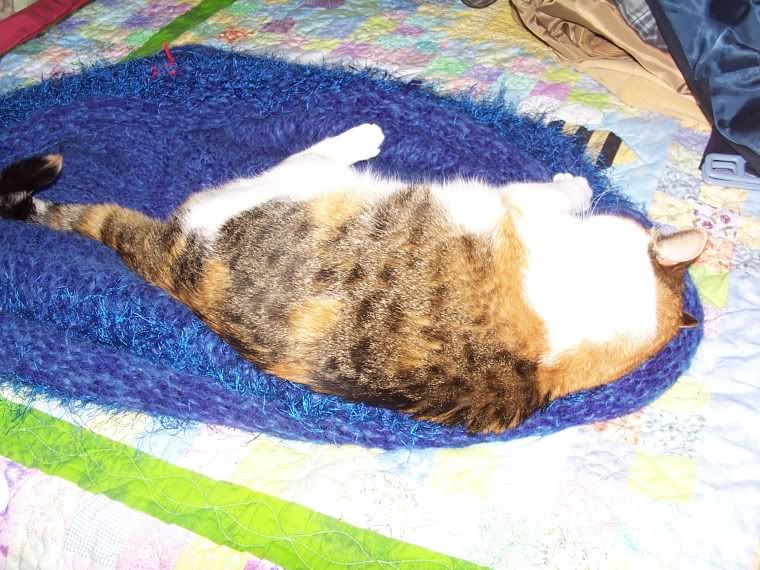 I'm looking at buying a Bernina 440. This model is being discontinued and replaced with a model that is over $4000. I have to clarify the financing issue. If it really is zero percent interest for 12 months, I will be a Bernina owner this month. If not, well, we'll see what's in store. I hate, hate, hate quilting on my current machine. It sews fine, but the quilting, well, I think you have an idea that I am not that happy with the results. If I do buy the Bernina, I will have to very seriously stop buying fabric for a year because my budget will go for the payments.