I'm participating in the
New Year's Eve Mystery quilt-a-long
done by Ann and Cal. Yes, I'm a little behind, so it is more like the NYE Weekend mystery. I have my fabrics, photo below. The requirements were a background,2 medium colors and one pop color. Since I didn't get to the precutting during the week, I've opted to do a lap size instead of a full/queen size. I'm primarily using Hoffmann fabrics (half off at the quilt store!). I will post as I get clues done. I know that the rest are already done with clue #2 and are awaiting clue #3, but that's ok. I didn't even have my sewing machine back from getting an adjustment until last night!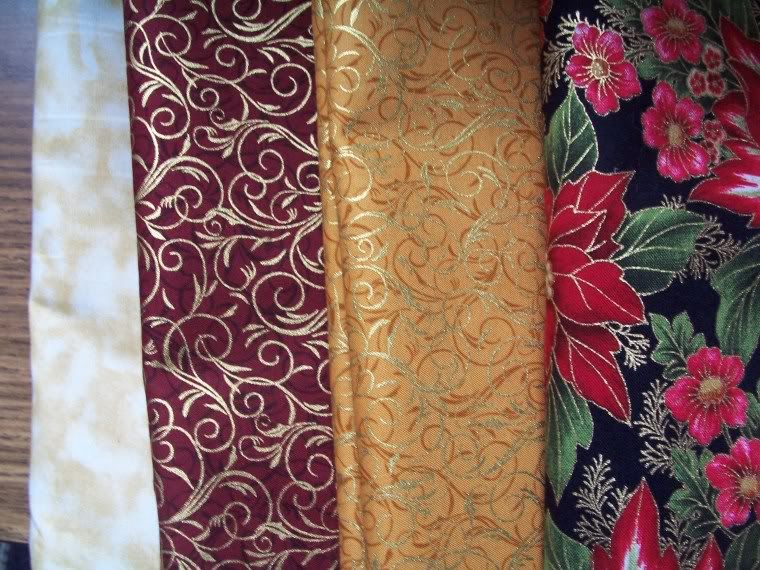 L to R: goldish marble, red w/quitlers gold, gold w/quilter's gold, poinsettas on black
If you are interested in participating, the quilt-a-long is at Yahoo Groups. Search for the group at QTMysteryQuilts. There are several other New Year's Day mysteries - I usually enjoy the one at the quilt group at About.com, but won't be doing that this year.
In addition, completely unrelated to quilting, if you know anyone with a 1st generation Ipod Nano, they should know that if they have a metal back, those Ipods are being recalled. In many places, you will be getting an 8 GB 6th generation Ipod (current model) as a replacement as they've run out of 1st generation refurbushed. The recall is ONLY for the Nano due to batteries that potentially catch fire as they get older.