Finally, I have cut and sewn enough HSTs to finish my
Depression Quilt
(
http://www.quilterscache.com/D_F/DepressionBlock.html
). I now have enough for 59 blocks. Originally, I was going to have a pieced border surrounded by 2 narrow borders. I may skip the border entirely as the blocks themselves will result in a full/queen sized quilt (84x96 inches), which is as large as I make them. Decisions, decisions. Blocks will be made when I return from vacation, so I've time to think about it. By then, I will also have decided if I want to quilt it or tie it. Here they are in a box that is now too small taken with my new digital camera (Kodak Z700). I haven't quite the hang of the software yet. Trying to sharpen the image results in these little white crackles along the fabric edges.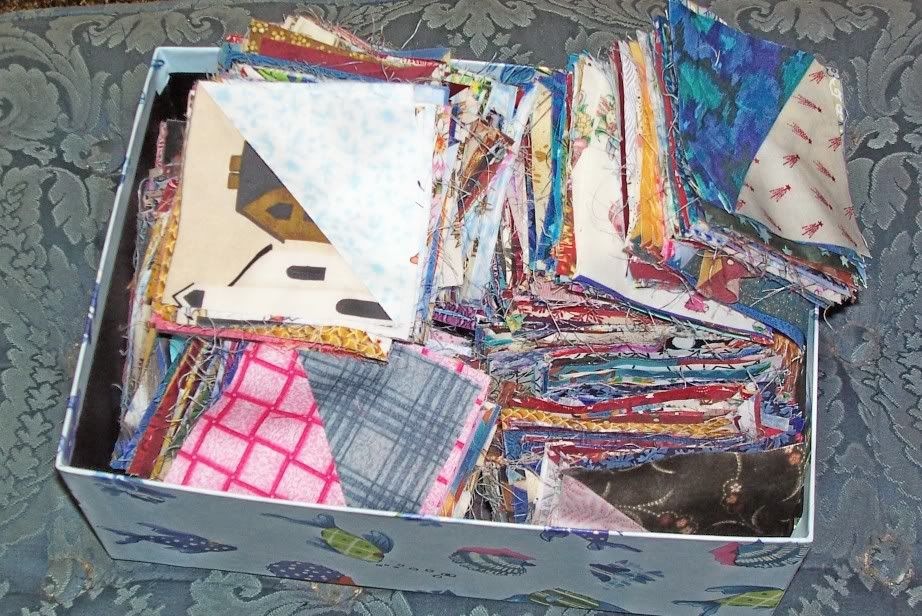 I'm getting the hang of using my bifocals, although they still don't help with needle threading much, darn it! I have nearly finished the individual rows for my apple core charm quilt. (charm quilt- no two fabric pieces are alike). This is a lap quilt that I started in 1996 and is hand sewn. Unfortunately, I seem to have permanently lost 2 rows of this quilt, so need to figure out what to do about that. When I get all the rows laid out, I can then determine what fabrics I need to supplement with. I have hundreds of charm squares to fill in, so it is not a problem.
I chose the Kodak Z700 because it was recommended by several cross stitchers. Most automatic cameras don't do closeups very well and scanning has resulted in some very weird colors. Here's my finished Peanuts project. Shows every thread! Now I just have to get this thing framed!