It's really grey and dreary out there today, but inside, I've been accomplishing plenty of knitting and quilting too! In knitting, I've finished my 14th Ladybug! Only 4 more to go!
I LOVE swaps, but hadn't participated as often as I would like. I already finished my 2.5 inch floral strip swap (just waiting for them to arrive). My latest is a
Triple Irish Chain in Florals
swap where I'll be using all those strips. Here is what the finished quilt looks like. This quilt top can actually be finished in two weekends.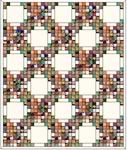 With random florals, you don't actually need a pattern. You can calculate everything out from the diagram itself. We are using 2.5 inch strips, so the resultant blocks are 14 inches finished. These rows are strip pieced then cut into 2.5 inch strips.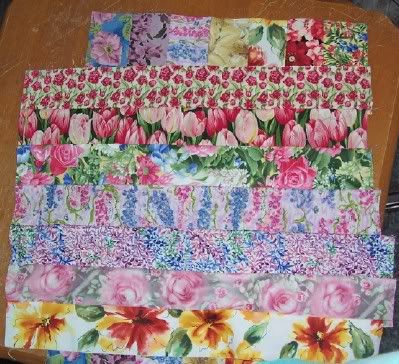 Here's my finished block! They go together very quickly once the strips are done and the correct width! My seam ripper and I are very good friends.
The result is very Springlike. As soon as my 2.5 inch floral strips swap arrives, I plan to finish the blocks that aren't being swapped and plan my quilting.