The
2 color afghan (Woolease)
is coming along nicely. I have reached the length of the original pattern, but since I'm adding an extra stripe to make it longer, still have a week or two left to go before I start the edging. Got a lot of crocheting in due to health issues (that danged cold just would not give up the ship!), so I was at least productive in that.
On the quilting front, I've come to slowdown. Still working on my
Garden Party
swap and had to take the time out to sort through and reduce my scraps. I discovered a couple of boxes of them and have to get them down to fitting only in my plastic scraps bin. Just pressing wrinkled scraps does an amazing job of reducing the space they take up. I've sorted out a number of larger pieces that are really only suitable for crafts, not quilts, and will donate them somewhere as they are too small and chintzy for doll clothing. Once this is done, I can get back to quilt making.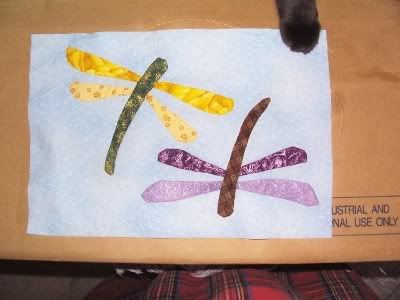 For knitting, yes, I do plan to work on those socks as soon as I get the above mentioned swap completed. I want to send the dragonflies in with the bees to save postage, so the race is on to get them done in about a week and a half. As each dragonfly block takes an entire evening (and that is after it has been pinned!), it is a tad time consuming.
Finally, the new law regarding children's products was stayed for a year. Hopefully some meaningful adjustments will be made to it. When you consider that this law mostly hurt those who were doing the right thing in the first place, it is really annoying.