I have been having a heck of a time trying to post to Blogger. I know the problem is with my computer, but it is so darn frustrating. Photobucket is also giving me issues, giving a link instead of a photo. Anyway, enough griping.
The 2 color striped afghan is halfway done. While I did have a lot of progress on it in January, much of that was due to watching
Desperate Housewives
DVDs which averaged 3-4 hours each. Almost done with season 4, so I don't really expect to finish this afghan until March. Currently, it is about 45 inches wide and 43 inches long. I'm thinking about 70 inches long and then I will add the scalloped edging.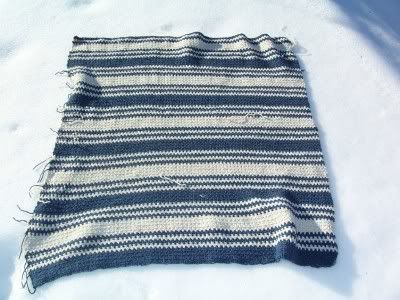 Also have been working on swap blocks. Finished an Iris and the sewing portion of the bee blocks. Still have to add attenae (sp?). This is a 3 part swap and my final part will be appliqued dragonflies. They will probably look better than my Iris' since I've had more practice now.