Yes, it's
Thermal Solstice Day
once again. This is where we typically reach our minimum normal temperatures for the year. Here's one of the cookies my sister made to celebrate today. It's a lemon sugar cookie and probably very yummy (too cute to eat yet).
As promised, I took a photo of the Sister's Choice blocks. Although a few 9 patches actually match, most of them will be much more scrappy such as the bottom one.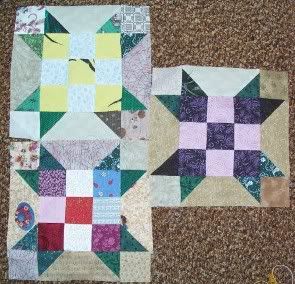 Today, I've been tying the
Diamond Scrap Quilt
. Pretty much all day, it seems. All the ties are now tied and I'm trimming. Maybe I'll even do the binding tonight!