My sister's cat Puff died yesterday. He was about 10 years old. He was diagnosed with cancer a couple of months ago and we knew he didn't have a long time. He was finally losing his battle and it was just time to go. Puff the
Cat God
, also known as the
Guardian of the Water Bowl
and
Keeper of the White Rump Spot
was a dedicated quilt inspector whenever I housesat. He and his catmates always made sure that no block went unnoticed.
Here is the Cat God preventing the Barbie Quilt from moving in 2006.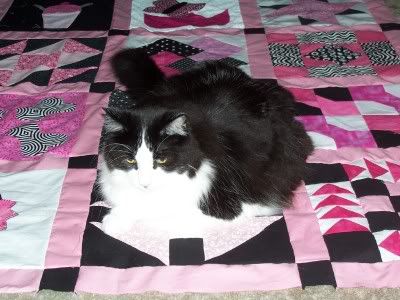 Here's my sister's other 3 cats. That cat in the front is Huff, Puff's brother, followed by Ptolomy and the all black spot in the back is Spitty.