My chances of returning to a tropical paradise are slim to none, but I've decided to try Hawaiian quilting finally. I actually started a Hawaiian Style Quilt-a-long over at Quilting Around the World (secretly it is so I can get tips) for encouragement while I work on all these large blocks. Anyway, here is my first block all basted and ready to start appliqueing. Elizabeth Root's instructions were very good and this first one came out correct the first time. Well, pretty close anyway. It's all basted and I'll start doing some of the needleturn tomorrow. The final block will be around 18 inches square - these are based on designs for pillows, but I plan to put them in a quilt, so just a lot of large blocks. I definitely need to make my backgrounds smaller. Didn't think of that when I cut it out.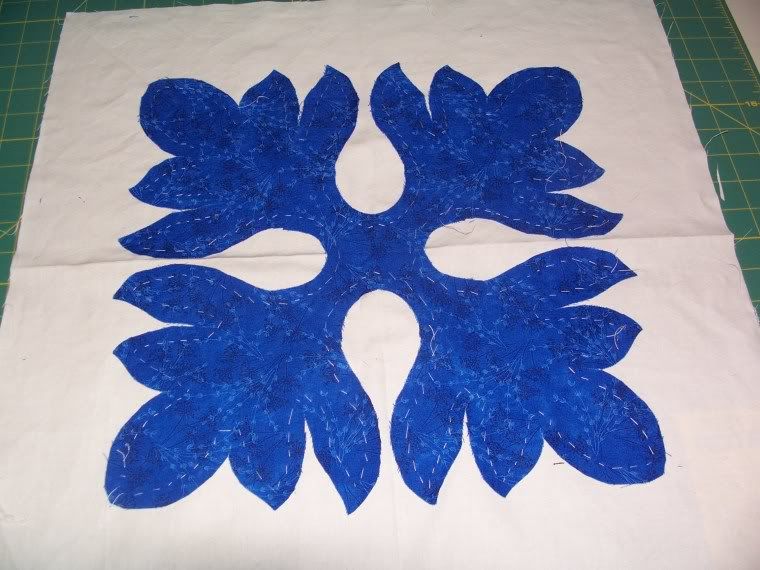 I've also been completing swaps. I've finished the
Goose In the Pond
swap, round 1. I also completed the
Spooky Attic Windows
swap. Here are my participant block! I figured nobody else would have these fabrics as all but one or two are pretty old. Remember, I mentioned before that I had like 97 yards of Halloween fabric? You don't get that over night. Takes several years of collecting! See those orange and black ghosts? I think that fabric must be at least 12 years old (Bernatex). Couple of Debbie Mumm plus a 1930s repro-like fabric. This was my style of the Attic Windows pattern. Two strips of black. Easy. Not sure if I will participate in the
Goose In The Pond Round 2
- I've hit that time of year where everything is a struggle, so I think I will focus on things that don't require a deadline. I can meet that.