It's a beautiful, but very windy day here in the Minneapolis 'burbs. I've been able to get a lot of things finished very recently. Must be all this nice sunny, wonderful temperature weather! In knitting, I finished
Ladybug
17, so only one more to go! I'm still on Season 3 of X-files. Don't worry though. The finishing is going to take at least 2 DVDs of X-files.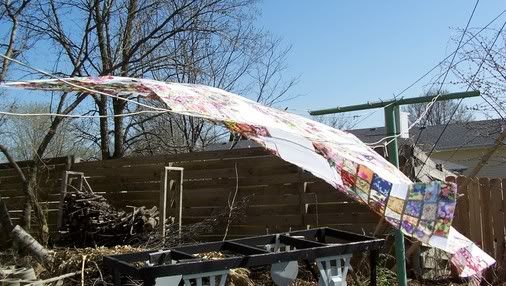 Today you get some photos! I finished the very dreaded
Pumpkin kit
top last night. The result is actually pretty nice. I think I put the eyes a little too close together on the upper right pumpkin, but all-in-all, I think the kit was worth it despite the many misnumbered pieces. Quilting it is still ahead!
Here it is! The March
Thimbleberries Club BOM
block. Whew, I'm just keeping up. I plan to stitch the center on these, but just haven't got to it. So far, this was the easiest block to do!
Oh, yes, and the flying quilt! Here it is! The
Floral Triple Irish Chain
quilt is already complete, only one day after my swap blocks arrived! My quilting plan is to do random leaves in the floral area and then a stylized flower in the center. Likely to hand quilt that flower. This is approximately 75 x 89 inches.