Yesterday and today has found me mostly working on
Sister's Choice
blocks. I'm rapidly running out of some scrap selections (dark green for the stars, for instance). I am not planning on a border and will be tying this. I want it thick like a comforter, so will have to research where to get thick batting by the yard. The little squares feature a lot of little novelty items, so it makes the quilt interesting.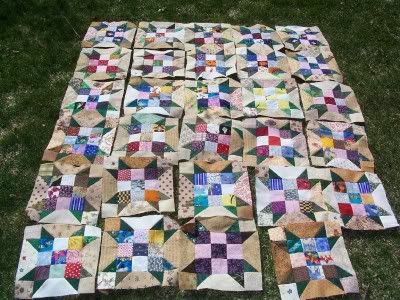 I babysat on Friday. Yes, me!? Let me introduce you to 11 month old
Samantha
, the daughter of my cousin Steve and his girlfriend Kayla. Kayla has been a work-at-home Mom since Samantha was born, but now her company is requiring her to come in a couple of days a week for a few hours. So, I'm one of the babysitters and it's a blast. Samantha is so interested in everything. She is cruising and just started to occasionally try to stand without holding onto something. I can tell already that she is a future needleworker. Look at her interest in yarn already! Yes, she was within arms reach while she had this yarn. Note to others: If buying baby clothing, skip the stuff with short ties. I think I tied it into a bow 12 times over 3 hours. Strings are just way too fascinating.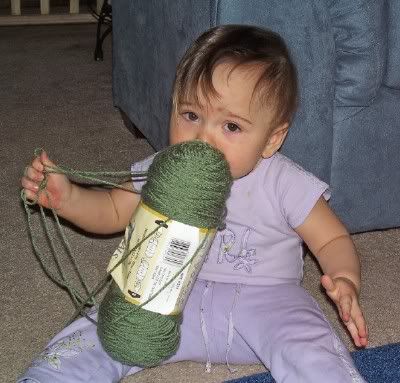 To occupy her with something else when I was ready to remove the yarn skein, Samantha chose to demonstrate the completed flowers for my
Mom's Rose afghan
. These are baby approved.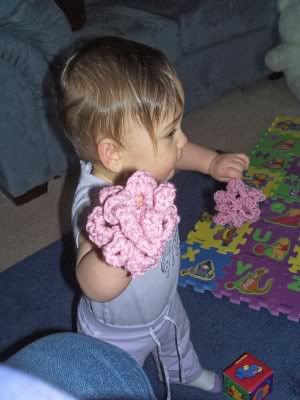 Another helpful crafter was the kitty (Not sure of his name, I think it's Hedges). He is a very friendly cat which made taking photos mighty difficult. Look his way and he runs over for attention. He thought yarn was fun as well. He is a dark smoke color, not black.