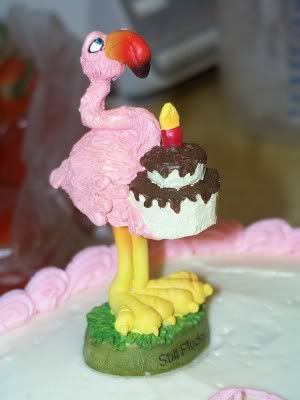 My birthday cake pink flamingo ornament.

I have returned from my rural fix. Unfortunately, that has involved some spending due to the 60% off coupons at Mill End Textiles (got backing fabric for 2 quilts plus some great fabric I truly didn't need). You can never have enough fabric. Anyway, on to accomplishments.

I found it very difficult to quilt wearing shorts, so quilting didn't go so well with the heat. Therefore, only the Floral Irish Chain quilt had work on it and it's about 60% quilted now. So, I concentrated on a lot of swap block finishing. Recently, I participated in 2 block swaps on QATW (an MSN group). First, the Barbie Swap top is complete. I was short a block so used an extra of mine and changed out the center (see bottom right corner). I've purchased the backing fabric as well, so when I have enough pins available, I'll be able to pin baste this one. I plan on black binding fabric. It looks a tad odd to use the same fabric for the border as for the sashing, but the quilting will be different so I expect that will look better. Most options for the border, I felt, took away from the blocks.


Second, the Maple Leaf swap blocks were great! I loved the on-point look with this block. Prior to leaving to housesit, I was unable to find my outer border fabric, so that has to be added yet. This quilt will be tied. The brick red sashing and inner border really set the leaves off well.


I had a lot of pet assistants when laying tops out to measure for borders and backing. All four think that no quilt top should go anywhere without feline approval. Only Puff stayed around for a publicity photo on this one. I don't think they liked the black/white contrast. They sortof pussyfooted around it.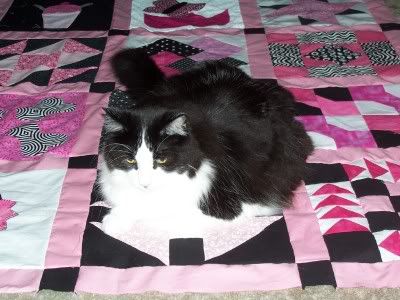 Puff
On the other hand, I couldn't get them to go away when laying out the Maple Leaf top. Huff kept dragging my measuring tape around thinking it was HIS toy. There was unanimouse approval on this one.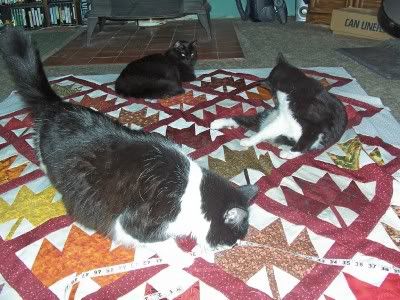 Huff, Ptolemy and Spitty (in back).
Finally, I started doing the Paddlewheels. Should have brought ALL the fabric for this one as it goes together very, very fast. This one would be ideal for a flannel quilt as well. I am using the instructions from a now out-of-print Thimbleberries book (same one that I made my parent's 50th Anniversary quilt). Fast, fast, fast. I did all these blocks in about 5 hours from cut to finish. This project will use up some of those dark Thimbleberries fat quarters I never know what to do with.
I also continued work on the Purple Opal quilt. The entire thing is purple and black half-square triangles and takes forever. It's hard to keep working on it due to the dark colors. However, I did get many strips cut, so using the Easy Angle makes it go quick. If you've never used that tool, it really saves time for doing half square triangles. In addition, you save on fabric. For instance, for 3 inch finished squares, you cut strips 3.5 inches (not 3 7/8 inches) saving slightly over 1/4 inch. I often can get one more strip out of a fat quarter than I could using other methods, which results in more squares. Also saves you time as the dog-eared edges only need to be cut off one side instead of 2. I am not amongst the group who makes them larger and then trims them to size. I can't stand doing it and since I don't enter competitions, don't see a need. You can still do that with this method as well. I've included a link to a tutorial on using the tool. Once I used it FINALLY for one quilt, I find myself using this method for most projects involving half square triangles due to the time savings.