I went to the State Fair today. Enjoyed all the crafts, some of the animals, a little of the food (and LOTS of the All You Can Drink Milk Truck milk). My feet are totally killing me. I'll be returning to the Fair next week as I got the dates mixed up for the rodeo. Will catch the stuff I missed the first time around.
Here's a few selections from the Craft area. I loved this string quilt. Although she used lots of different fabrics, what set this one apart was the strip of red satin in every block. Gave it a real WOW factor.
This next one was the hand quilting winner. I'm certainly no where near her skill in applique, but I thought the layout was really great. Very easily done as a take a long project.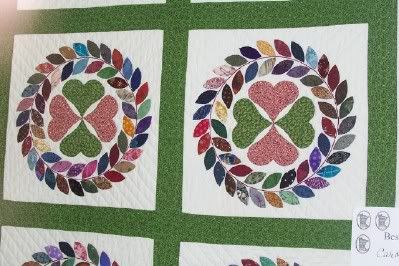 Quilt by Carol Schwanke
This knitted item is totally a one-of-a kind. Note that there are TWO dresses (one is behind this evening gown. Don't know who made it, but they could call it "Ode to Sock Monkey".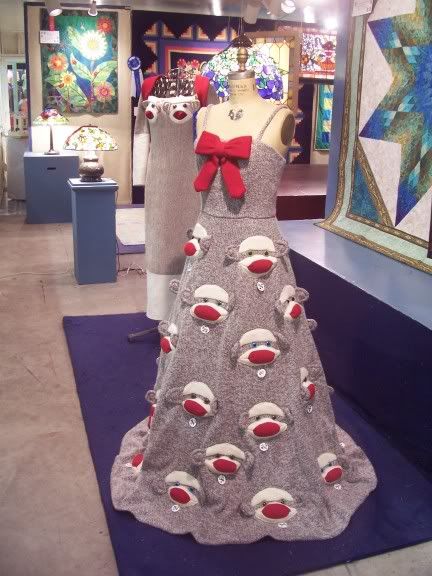 For crochet, I noticed this
63 square sampler afghan
amongst the afghan entries. The number of afghan entries is up a lot! Maybe I'll enter mine when I get it done.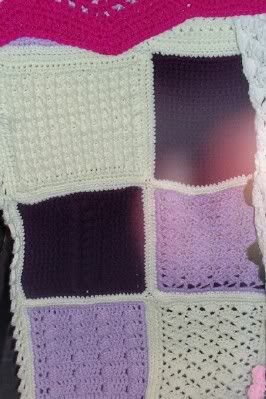 One cannot go to the fair without at least a look at the animals. So, my contribution is a photo of some little piglets born minutes before I arrived (the sow was still having more piglets).