Here's some of the progress on my projects. The first is my sister's quilt. Actual tying is occuring finally. I'm using up yarn from tying my Mom&Dad's Diamond Scrap quilt. The flannel on the back is from Joann's and is the cutest star fabric. Doesn't really go with the pink paisley, exactly, but it's soft and happy and bargain priced. My sister likes it, which is the most important thing.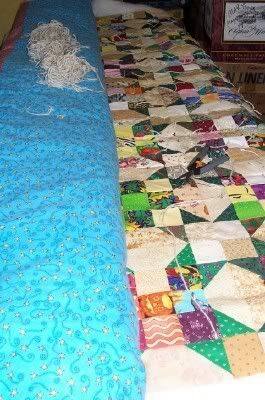 Here is that strip of
Paddlewheel quilt
quilted. What attracted me to this quilt pattern in the first place was how well the simple quilting worked with the design. I just do 3 straight (more or less) lines in each paddle then about 1/4 inch in on each of the triangles. This pattern is in an out-of-print book from Lynette Jensen (Thimbleberries). Once done, I'll post all the info as I'm sure you can get the book from Ebay. She does not call it Paddlewheels (I do). The closeup view shows the quilting in more detail.