As always, I'm working on several things. First, I'm working on the
Paddlewheel quilt
. This will be quilt-as-you-go in strips. I just can't stand yet another project where I have to try to push an entire quilt around in my sewing machine. So, I'm just making it easy on me. I prefer strips over blocks because there is less finishing involved. Most of my strips are 2 columns, but this one was a singleton and although I had planned to attach the border to this one, I forgot when I cut the backing fabric. So, one extra piece..oh well. I only have enough pins to pinbaste 2 strips, so the rest have to wait until something is quilted.
After I pinbasted that strip, I finally put my sister's quilt down to be tied. I found the missing yarn, so I'm ready to start on this. Well, after my class tomorrow. I'm taking a stained glass quilt-as-you-go class that finishes tomorrow. I have several stained glass patterns that I always intended to do, but just couldn't get the instructions. After learning this method, I plan to do the others the same way and the heck with the instructions (could be this is what they meant, but hey, sometimes you need someone to just show you).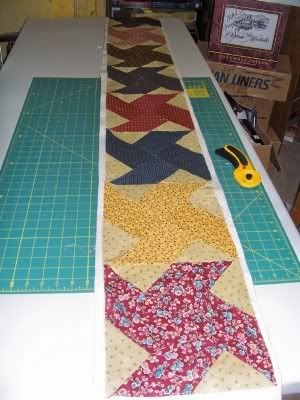 Strip of paddlewheel layed out ready for pinbasting. This resin table is great for everything except quilting (vibrates too much).
I needed to use up leftover yarn from my Mom's project including yarn she rejected (but I lost receipt). So, I joined a
Giant Granny-A-Long
and am making this kindof cool rectangular granny afghan. I have not made a granny afghan since I was 16, so this is fun. I just started this thing yesterday and worked on it while bringing relatives to 2 medical appointments.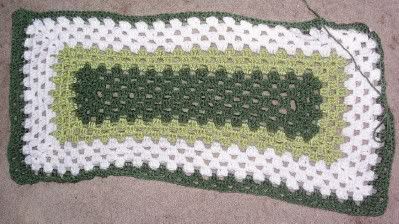 Finally, I rarely ever mention what my sisters are doing. My youngest sister makes doll clothes and decided to try selling some at craft fairs. She did her very first craft fair and sold almost $400 worth of doll clothing! I'm very proud of her. She was so concerned that she couldn't sell these (using unusual fabrics or her own designs), so I'm glad she was very successful. She has one more craft fair next weekend. Hope she does just as well! She and my bro have also done well this deer hunting season. She got 1 and he got 2. Crossing my fingers that BIL will get one this weekend.