I'm making progress on the baby afghan. I'm 25% done according to the pattern directions. I may make it a little bigger than pattern directions, but not a lot. This brand of circular needles always curls. It doesn't particularly bother me when knitting, but it's hard to straighten out for a photo! This yarn is VERY light, so it's perfect for a March baby. Had we been going into Winter instead of out of it, this would not have been a good choice for yarn. My intentions for working on my Banff sweater have been laid aside until I get this afghan done.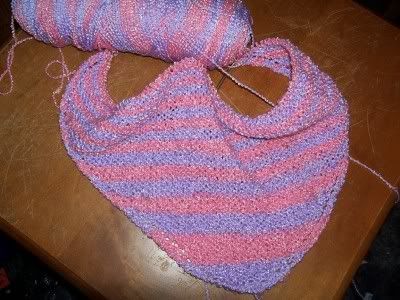 Here's a tired kitten. After an hour of pulling dirt out of plant pots, racing up and down this old chair, attacking fellow kittens and general mayhem, she had to take a nap. Usually the all black kitten is looking out the window (he loves to watch vehicles-typical male), but he was off doing something else.
Also, if you knit and own a cat (or are owned by one), there is a Ring of Knitting Kitties (knitters who own cats). It's a very large ring and I'm keeping a link in my "Other Blogs Read" section. There are 522 blogs there and I've already found several interesting knitting sites/patterns.