Baby kitties are growing although they still can't see. Loud. Really loud when picked up. Mamacat is very much a young cat and needs lots of support.
I've spent the last few days mostly sorting through craft books to try and eliminate some. It's very hard.
I finally found the great example of a block to use up the 2 inch squares I've been accumulating. My 5 quart bucket was nearly full, and clearly the darks outnumbered the lights 8 to 1. Darlene (
dasheyquilts
), a member of the Stashbuster's group, posted a photo of her scrappy square. I'm doing this but using a solid white for the background. This is not a new design. In fact, it's in one of Shar Jorgensen's early books and done in scrappy reds. I never thought of doing the heart in just dark fabrics. Interestingly, I have some of the same fabrics in this square! I've completed 2 squares and now have to do 2 reverse squares to get the look that I want. I'm using 2 inch squares (1 1/2 inch finished).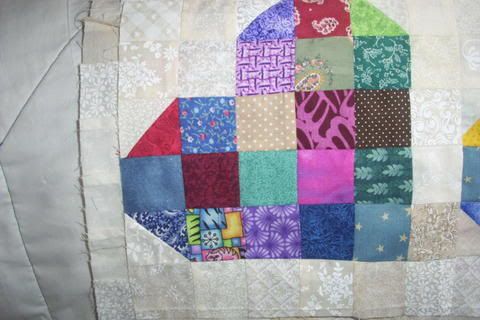 This is Darlene's square that inspired me (from Stashbuster's list).
The 2 7/8 inch scrap container is also stuffed. I started doing an
Ocean Waves
block and realized that I have nowhere near enough lights to do this pattern. So, I switched gears and am doing a
Lady of the Lake
pattern. I have to select out fabrics from my stash for the larger pieces, but in the meantime, I have plenty of half square triangles to make. Here's a link to the pattern I'm using from
Quilter's Cache
. This is a very traditional pattern and there are some great examples featured on page 2 of the instructions. This is a 10 inch block.
http://www.quilterscache.com/L/LadyoftheLakeBlock.html
If you would prefer a 12 inch block, here's a link to a pattern for that.
http://mccallsquilting.com/qb/pattern_502//index.html
If you like this pattern, here's a coloring page to envision your fabrics in it.
http://blockcentral.com/ladylake.shtml