Once again, it is time for the Olympics and once again, someone is hosting the
UFOlympics
. This is designed to help you complete an unfinished project while watching the Olympics. I am also joining the
2008 Crochet Games of Ancient Greece
as a reason to do a kit that's been hanging around for some time.
You too can participate. Here's a link to the rules and some of the instructions. You may need to join another site to participate.
Link to UFOlympics (Knitting)
http://knitting.xaviermusketeer.com/?p=1020
Link to Crochet Games (Crochet)
http://www.crochetville.org/forum/showthread.php?t=78223
I'm entering 2 items to be completed. The
purple sweater
and the
Banff Sweater
. The purple sweater is completely knitted, but requires sewing up and final finishing. The Banff Sweater requires a cowl neck to be knitted. My crochet project is a
Halloween kit
I purchased 4 years ago.
My purple sweater was actually the first sweater I made with actual knitting directions as all my Norwegian sweaters require only charts. I used Lion Brand
Imagine
yarn and did all the knitting in purple and then lost my last skein. Polly, the yarn kitty, found it (does this surprise me? No, it does not). I partially sewed it up and had this odd lump in the arm. I have since removed what I had sewn up and started again. And there it sits. 2 hours and I should be done.
Here's the neck area of my purple sweater as well as the book that provided the instructions.
Color 'chip' of Purple Haze sweater. Lion Brand Imagine yarn.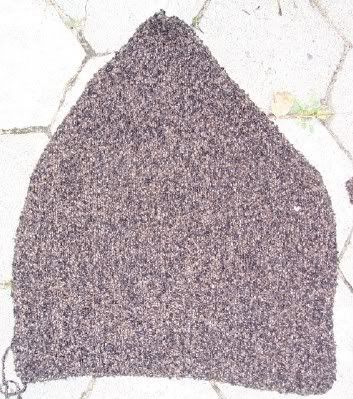 Ribbing of Banff sweater and completed raglan sleeve. Very nubbly yarn, I used a Bernat yarn purchased at Joann's. It has tons of yardage - 5 skeins will finish it. Body and sleeves are done. Need to do cowl neck and finishing.
My
2008 Crochet Games of Ancient Greece
project is this kit I purchased from Annies Attic. It's a little complex, and includes a few new techniques for me including crocheting very fine yarn.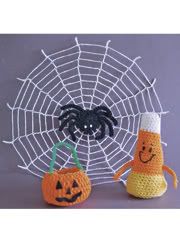 I am also currently working on two take-a-long projects. One is another crocheted, scrappy, use it up, hexagon afghan in various Red Heart yarns, and the other is a crocheted ladybug afghan. Yep. Another. Both are commercial patterns, so you don't have to wait for me to get my act together and post instructions! The hexagon afghan is from Bernat #530162 HouseWarming and the Ladybug crocheted pattern can be purchased at http://www.maggiescrochet.com. I am still in the early stages of both of these take-a-long projects.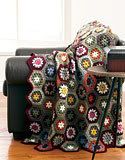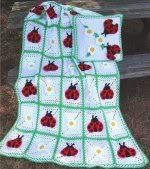 Photos are from pattern covers.