This weekend has been snowy and cold, so I spent the time catching up on quilting swaps. First swap is just
purple fat quarters
. The second was the
Winter Fun
swap. My assigned blocks were pinwheels and rail fences. The goal was to use true blues and those actually turned out somewhat hard to find! Everything has a tinge of green or purple in it.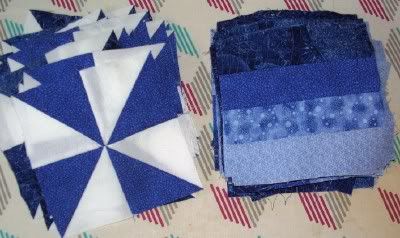 The third swap is a
Puss In the Corner
swap in warm tans & cremes, browns and earthy reds. Here are my finished examples. I thought I would be done with them today, but miscut the last piece by 1/4 inch. Of course, I have no more fabric, having just bought enough to make the swap blocks plus 2 for myself. So, off to the quilt shop tomorrow to get more.
I bought a quilting book, sight unseen, that arrived a couple of days ago. It happened to have a pattern that will be perfect for some scrap strips I had been given 4 or 5 years ago. There were not enough of these miscut strips to make the light half for enough log cabin blocks needed to make a full-sized quilt. However, this pattern uses 10 inch HSTs as alternate blocks and that is just perfect! Now, of course, the challenge is to find a good tiny-print-black-on-white, given that it has faded from popularity! I remember seeing something over at
Mill End Textiles
a couple of weeks ago that would work well. Can't go until after Christmas though. Not enough time. The 'blue' half will be a combo of blues and purples that I already have. The book is
The Simple Joys of Quilting: 30 Timeless Quilt Project

s
by Joan Hanson. Really nice book of traditional patterns. While the colorways are new, most of the patterns are easily found on the internet. It's the adaptations and color choices of some of them that made this worth my while.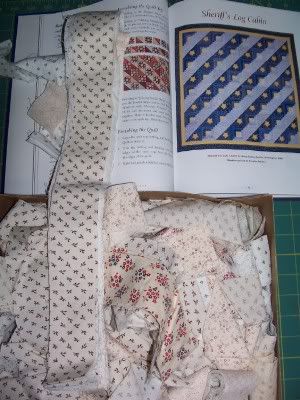 On the knitting front, I plan to not do ANY quilting on Christmas Day and instead, start a pair of socks. My sock class (knitting 2 socks on 2 circs), originally slated for tomorrow, was canceled. I am still signed up for a class but it will either happen in Janary or February and I need to start some socks now or I won't even get a chance to wear any this winter!