I'm haven't done a quilting mystery in several years, so decided to join Bonnie's Mystery on New Years Eve Day (www.quiltville.com). I've seen her recent mysteries, and it is totally my style. The biggest challenge is deciding on colors because I would prefer to use as much as I can from stash. She is using civil war colors, which I don't have, but I'm not even sure if I have pinks that work with brown, which is currently popular. I could go with a non-Christmas red and green palate. We'll see and I'll update when I have my colors chosen. This is my first mystery with Quiltville, so I don't know how she organizes it. My other mystery source (www.quiltaholics.com) does most mysteries over a 2 day weekend.
The most I've done with knitting in the past few days is to trade some of my older knitting books with another Ravelry member. I was set to start a sock and Polly ran off with the yarn and stashed it somewhere. My fault. I know I need to keep this stuff in Ziplocks or she just takes it.
I bought the yarn for this simple afghan 4 years ago and decided to start it last week. Yes, I know, that is 3 afghans at once (what IS wrong with me?). My local Hancocks had this completed sample in their store and I just loved the texture of the stitches and the completed afghan was wonderfully light in Woolease. After I requested the pattern from the company, Lion put the pattern up again. I am calling this my
Desperate Housewives
afghan because I'm crocheting it while watching DVDs of DH from Netflix. I'm on Season 2. I think it will be done by the time I finish Season 5 easily. This is totally brainless crochet, so perfect for TV watching. I'm doing it in Woolease
Blue Mist
and
Wheat
. The pattern at the Lion site is entitled
Two Color Striped Afghan
and is free to download after registering. I'm 2 rows into the first large white stripe.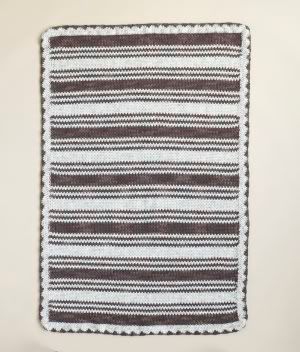 Photo from Lionbrand.com site