Yes, folks, as though I don't already have enough projects, I started a couple more!
First, I have wanted to make socks and just keep putting it off. So, I joined a
SockALong
for June. We are all making the same sock (see button on sidebar). Me, having lots of experience with UFOs, followed the suggestion of starting both socks at the same time. I happen to have plenty of size 2 and 3 needles for doing sweater cuffs. I've finished the ribbing on both socks and expect to work about an hour most days to complete this task.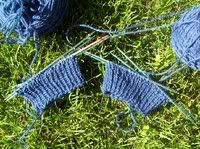 My second new start is a MOEZ afghan using a
Winnie the Pooh
graph. The MOEZ hook is a large mm, long wooden afghan hook manufactured by a guy in Oklahoma. The stitch is
Tunisian Stitch
which results in an evenweave making it easy to do patterns from cross-stitch graphs. However, you do the graph within the afghan, not cross-stitch it after the fact. After a few bad starts, my fabric now looks like the photos. Here's part of my 10 rows prior to starting the actual graph.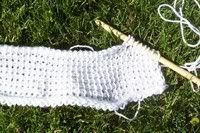 Yes, I did finish something. Here are the examples of the finished swap blocks for the
1930s Churn Dash Swap
. All done and ready to package up and mail. I'm still working on the Maple Leaf swap. I need to cut more fabric, but by the time I get to it, it is later in the day and my sunlight is gone.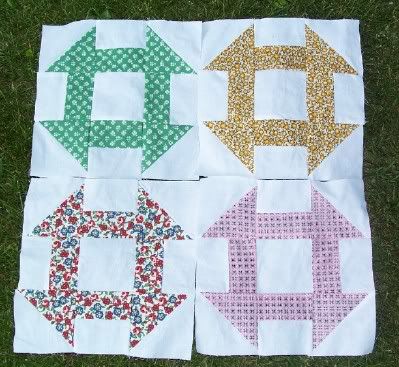 I am also working regularly on the shawl. I'm up to 115 stitches now. Still going strong.