First, I'm here to tell you that I continue to have progress on quilts. I finished all the tree blocks. The initial sashing is also part of the block. Sewn and trimmed. Tonight, I am cutting all the sashing and cornerstones out. I don't know how much fussy cutting I will need for the Vikings fabric. Only experimentation will tell. I'm told by the manager that there will be plenty of Vikings fabric unless they start winning.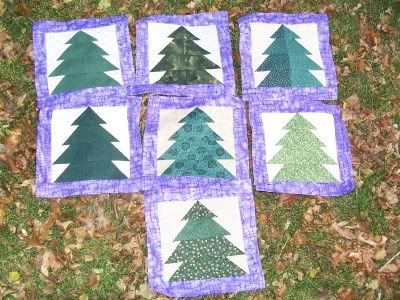 Here's the new cat tower (or triple bunk bed). It was supposed to be my cookbook shelf. While moving stuff around, this ended up in front of the window and it looks like here it will stay. At least for the winter. From top to bottom is Bart, Cleo-Claudine and Sylvester. Unfortunately, Bart took it upon himself to pull off all those vinyl pumpkins stuck on the window. Bad boy! That lovely red/orange/yellow ripple afghan was not made by me. I actually found it at a garage sale. It had never been used! The gift information was still inside the blanket! I could not believe it, so immediately bought it for $2. Clearly, someone had no appreciation for handmade stuff. It's impossible to keep a kitty off one, as you can see. I'm making some polar fleece pillows for this so that I can get my afghan back and get rid of that ugly camouflage blanket that Cleo is sleeping on.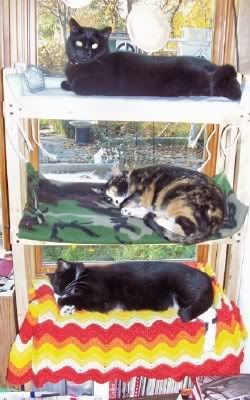 Here was a new bed. Didn't even have time to get the tag off before Polly was in, upside down and snoozing.