Today I was able to take some photos of finished projects for a short time (and it was windy) while the sun was out. The first is a completed felted,
purse organizer
I did for a Monthly KAL project. I actually plan to use this in my knitting bag to keep small items and double pointed needles together as well as a place to put my wallet and cell phone when I take it with me (so I can leave the purse behind). It's made from Cascade Pastaza, a wool/alpaca bulky yarn. Soft, but the long hair that appears after felting is kind of a turnoff. I don't really recommend this yarn for felting, but it is absolutely scrumptious to knit. Polly has decided that it is prey and has now walked off with it. I want to make a car coat from this yarn. So soft.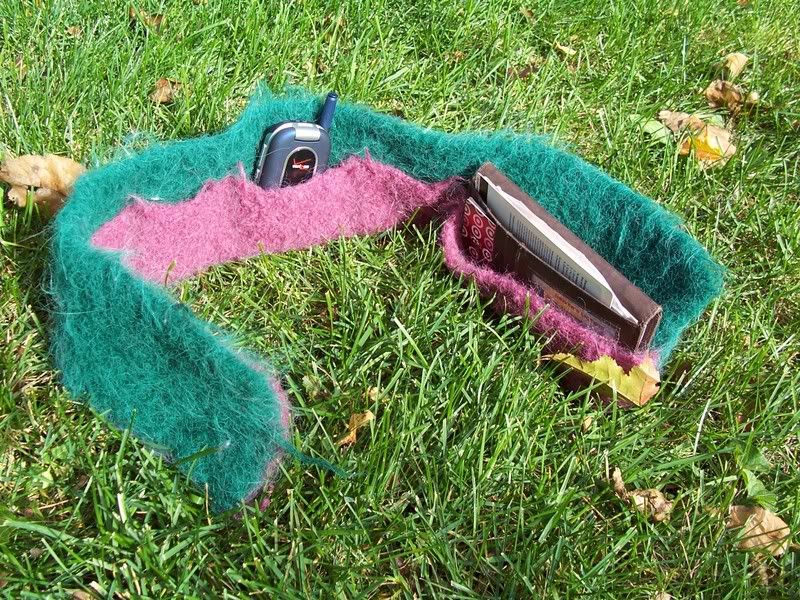 Next is a progress photo of my
Christmas-Or-Not KAL
project. This will be a computer monitor cozy. Yes, it looks like a ball of fuzz now, but just you wait! The vinyl yarn separator bag was a freebee included with this month's
Simply Knitting
. Works great!
Here's my new purse. No, I didn't make it, it is a store sample that I bought (yarn and pattern no longer available there). I wanted to point out some things here that you might want to apply to future projects. First, the handle. That marbled effect is from combining the 2 different colored yarns while knitting. Next, the rolled edge is ideal for adding this beading attached to a twill tape. You apply the bead tape and then sew the rolled edge over it. If you are into beading, just attach your beads to twill. Much easier than trying to sew them evenly around the purse. Finally, this particular design has a narrow top. This actually does work to help prevent stuff from falling out of the purse. I really like this purse, but I am going to add 2 pockets - one for car keys and one for the cell phone.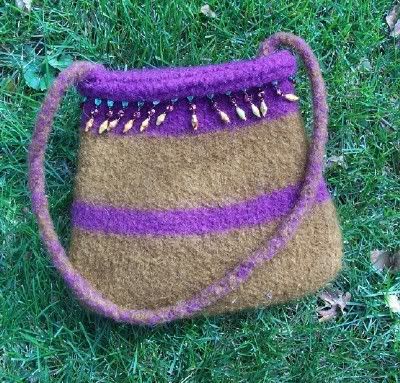 I recently received 2 items from Fairy Godmothers at
Crochetville
. One was a Q-Hook Afghans of the Month booklet. Already picked one out to do. The other was this fine square that will be included in my red/white friends afghan. I have not seen this particular pattern before. I like that floating square in the center. Thank you ladies, I VERY much appreciate your generosity!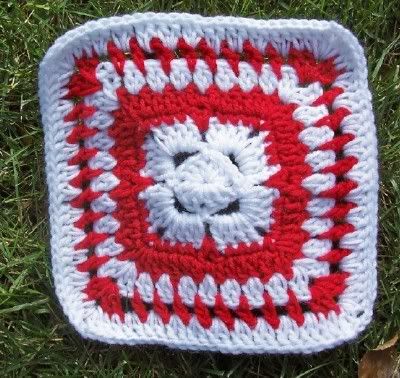 All of you quilters are probably wondering when I will be working on that! Well, this weekend! I'm leaving tomorrow until Monday or Tuesday. My sister and I will be crafting all weekend at their lake cabin. I plan to just work on finishing some already partially completed quilt tops, so that I can tie them later this weekend.
Finally, while doing this entry, the mailmam arrived with a box from Knit Picks. Yarns, some books I don't actually need. One I do. Polly wanted the box. She got it.
See the almost birthday kitty nap!