I've been working again on
Anubis
, the cross-stitch Egyptian set that I've been doing for my sister (the one who doesn't read this blog).
Thoth
, of course, was finished and this is the companion piece. I'm doing it on 18 ct Aida. Easy and fast to do. A lot of experienced cross-stitchers forsake Aida once they try new and finer fibers. I find that you simply have to look more carefully for a more sophisticated design that works with it. Aida is perfect for travel as it can easily be done in most motel rooms. If I could actually finish by a deadline, this should be done before Feb. 16 (her birthday), but we all know my ability to meet one of those!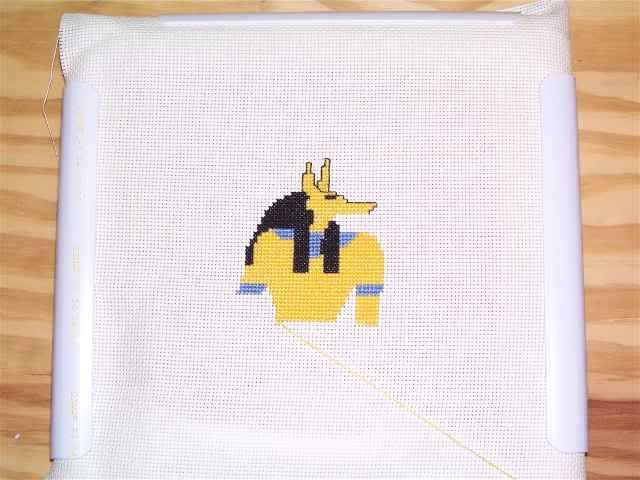 I joined the
UFOlympics
knitting group (see button on side panel) with the plan to finally finish the Ladybug Afghan! All the red panels are done, but the ladybugs were so complicated for me, having never worked with color like this before, that I keep putting it off. So, during the Olympics, that will be my major project (in between trying to finish Anubis). Once I finish the project, I will be putting up a link to the instructions. I have had quite a few requests for it and Family Circle gave me permission to do that.