I started my Banff sweater on Friday (Dec. 2). So far, I've progressed with 4 inches of ribbing. I started it on Dec. 1, but just couldn't stand the back and forth knitting so recast on using circulars.
TIP-be sure to drop 2 stitches (used for sewing up) when switching a pattern to circulars.
I forgot, don't want to rip back, so am just continuing. I am making notes since I will likely make this sweater a second time! I hope to make this sweater again, but in-the-round and top down. Way easier to fit.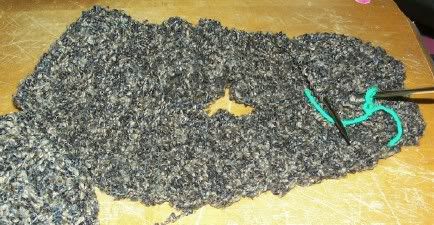 Banff so far
The housesitting plans have changed and I will be leaving on Saturday to house-sit and likely not returning until Dec 28th. I will still have internet access, but with my sister's slow dial-up, Blogspot is a little hard to operate. I plan to bring 2 quilts that need quilting, all my scrapbooking stuff and my Banff sweater. My sister and BIL live in rural Minnesota and I will be caring for their 4 cats. She lives 45 miles from the nearest quiltshop. Heck, even Ben Franklin closed up so you can't even buy thread nearby any longer. So, I hope to get lots of stuff done (keeping in mind that cats like to hinder).