I don't know if I'm a shawl person or not. They are very popular among knitters and crocheters and some of the patterns are gorgeous. So, I decided to make an inexpensive shawl and try it before tackling more difficult projects (my family members prefer sweaters). I chose a traditional triangle pattern, which is very easy. It's just knit 1, yarn over, knit across. Repeat. Simple, huh?
I had been working on this at the time of the Great Flood and during the ensuing melee to prevent loss of stuff, the remaining skeins were mixed with other stuff. During my partial reorganization, I managed to get all the parts of the project into one bag, ready to work on. I'm more than halfway done now. Here's an in-progress photo of my
Shawl
. I'm making this out of Homespun (very cozy) in the color Andirondack. It's a cool brown, with grey, a touch of blue and purple. Since I'm a fluffy person, of course, I'm going to be making it larger than the pattern. For a photo of the finished one provided by LionBrand, look over on the sidebar for
In Progress
and click on the
Shawl
.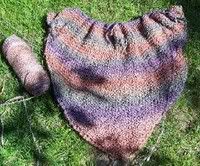 Ah...the
Great Flood
. This happened 2 summers ago. We had a huge, huge rain and for some reason, the water didn't drain away from the house (houses settle over 25 years..gotta watch this!). Instead it came down through the basement chimney and started pouring into the basement right into my craft area. Due to quick thinking on my sister's part, I lost very little. However, it's never really been organized well since then. I am guilty of hobby stuff hoarding. Anyway, now that I'm able to get to the parts of these projects, hopefully they will get DONE, go to their proper places and the leftover yarn off to somewhere else. Oh, and the problems that created the unheard of downpour in the basement have all been resolved.