The sun was out, the sun was out! I mowed...and mowed...and mowed. But it is done! I also did a big section of crochet on my Summer Sling bag from last year. My Dad is going to a lot of medical appointments just now in anticipation of surgery in July. So, I have to have lots of take-a-long stuff to keep me occupied. Works very well!
Last night, during commerical breaks during 24, I managed to finish the seams linking the two halves of the Ladybug afghan together. Ok.. it's not as bad as I thought. I'm just going to add on to the 3 panels to the left and everything should work. So, not too bad. I'll work on it tomorrow.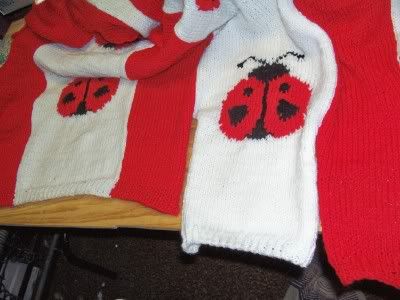 For the Sock-a-Long, I have chosen
Cascade 220 Heather
in denim blue and a dark blue for the heel and toe. My gauge isn't quite right--I get 22 stitches over 4 inches instead of 24. I'll have to practice a couple of times to see if I can't tighten that stitch. I must admit that I've become somewhat sloppy in my knitting. I just need to tighten up a tad or learn to use smaller needles.