On the needlecraft side, I finished the
Paddlewheel quilt
today! Full treatment to follow tomorrow (if we still have all this sun). I'll have it kitten tested before I take photos (must be cat approved you know). I have to do labels for all the 2006 quilts now that I found my fabric labels again.
I got
Electric Quilt 6
for Christmas and I've been playing with it and actually following the tutorial. Finished Lesson 1, on to Lesson 2! I was happy to find out that I can scan my own fabrics in, since there isn't a chance that they would be in EQ6. Now, I just have to figure out how we can toggle between hi res and low res because it's very hard to read the screens outside of the quilting program. There MUST be a way of doing it in XP. We just haven't discovered it yet.
The
Christmas Train
is pretty popular. Dad is trying to figure out how to squeeze in one more car and Mom torments the kids by adding one more stuffed animal periodically. Bob the Builder arrived only about a week ago. Kids even get out of their vehicles to have their picture taken in front of the Train. I am only a train worker bee. I help move the train onto the front lawn and back again after Jan. 1. Now, for the photos. First, we start with our engineers.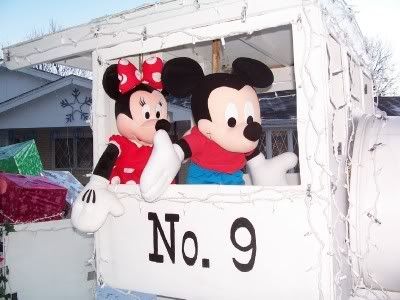 The Engine! The wheels are stationary during the day, but move at night.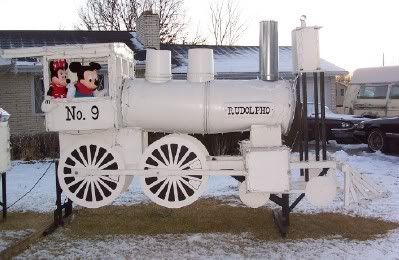 >
Next, the Gift car.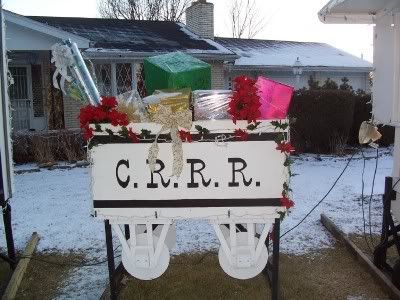 Next is the animal box car (technically, they aren't all animals).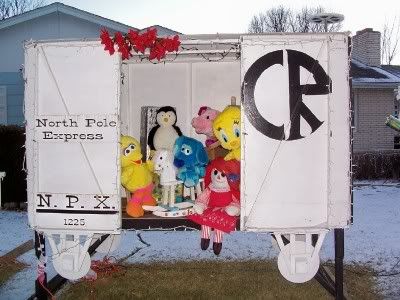 Here's Grog and Nog. Need fuel to celebrate, right? The garland keeps getting ravaged by wind. Guys, here's a place where duct tape just doesn't work.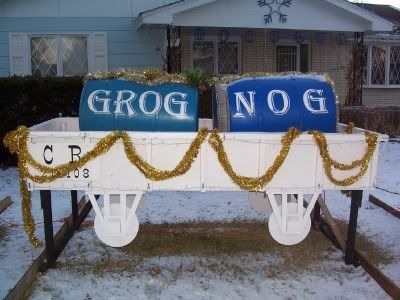 Here's the Caboose. Little Nemo even has bubbles.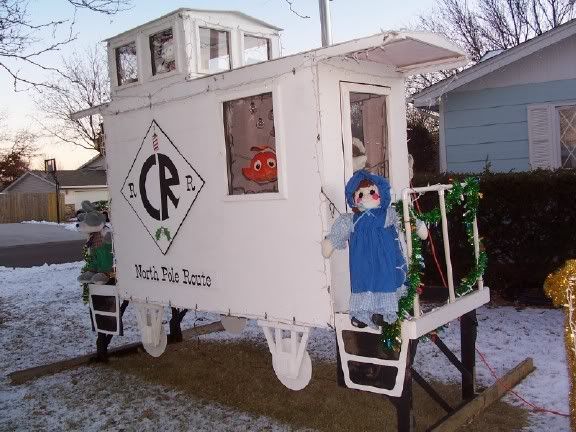 Upper window of Caboose has Santa Bears. For those not in the know, around 1985, Daytons offered a Santa Bear. It was so popular, that they designed new Santa Bears every year for a number of years afterwards. The Dayton's store is no more, but Santa Bear lives on in the Christmas Train.